Tequila LGBTQ
The best practices in LGBTQ marketing– authenticity, inclusivity & diversity, and consistency & confidence–have been detailed below, along with case studies of LGBT-specific marketing and activations executed by Absolut, Skyy Vodka, and Stoli. Absolut and Stoli have both launched bottle editions targeted at the LGBTQ-community.
BEST PRACTICES
1. Authenticity
According to an Ogilvy study, "almost two-thirds (65%) of surveyed Americans think LGBT-inclusive brands and businesses are beneficial to the economy, but 68% said they must "walk the talk" in an authentic way by following up on promises and plans in regards to LGBT support. The LGBT community, which has massive buying power estimated at $917 billion, looks for and understands which companies show true authenticity and will reward them with fierce loyalty and brand activism."
"Through their EQUALITY and BE TRUE campaigns, Nike has shown their undying encouragement for the numerous minority and underserved communities. As a result, Nike has built a loving and compassionate reputation. Nike's BE TRUE campaign wholeheartedly backs the LGBTQIA community." The brand has been launching the BE TRUE collection every year since 2012. "The collection is made up of sports shoes, like the Nike Flyknit Racer, Nike Air Zoom Pegasus 34 and the Nike Air Vapormax Flyknit, as well as the timeless Nike Classic Cortez."
"Skyy Vodka's commitment to the LGBTQ community goes beyond simply participating in a Pride parade and calling it a day," says Melanie Batchelor, VP marketing, Campari America. "Our support is long-standing and multi-faceted." In 2015, the brand expanded its "Toast to Marriage" campaign leading to the Supreme Court verdict on gay marriages, showing their commitment to the Pride movement. The favorable ruling by the Supreme Court was one of the brand's "proudest" moments.
"Is the vodka category's support genuine? 'It's hard to say,' says Gina Tonic, a drag queen who performs at bars and venues throughout NYC. 'They definitely put a lot of thought behind what they do and what they give out [at Pride]. At the end of the day, any marketing is marketing. I don't expect Absolut or any other [vodka] companies to be in Congress trying to get a trans bathroom bill through.'"
Alcoholic beverage brands need to tread carefully as they are marketing alcoholic beverages to an alcoholism-risk-prone community. "Up to 25% of the LGBTQ community has moderate alcohol dependency compared to 5-10% of the general population." Therefore, authenticity is even more important for alcoholic beverage brands.
2. Inclusivity & Diversity
Gallup estimates that in large metropolitan cities in the US, as much as 15% of the population is LGBTQ. Therefore, "sexual orientation and gender identity (SOGI) inclusivity" should be a component of every marketing activity. "When companies don't focus on inclusion, they risk appearing disengaged, out of touch, or even offensive. Whenever people are shown (in advertisements), it is best to include LGBTQ individuals, family members, friends and couples that reflect varied ages, races and genders, etc. Language references to family or relationships should not only include heterosexuals."
Skyy Vodka's proudly American campaign featured celebrities like John Cena, Olympian Gus Kenworthy, and also Trixie Mattel and Dusty Ray Bottoms from RuPaul's Drag Race. The campaign spoke of American values and how members of the LGBTQ community lived up to them, just like the remaining general population.
3. Consistency & Confidence
Modifying or withdrawing ads after negative criticism from conservative groups suggests waffling and alienates LGBTQ consumers. Criticism should be responded to keeping an eye on "business rationales, such as diversity and the bottom line."
When Target announced "its policy of allowing transgender customers and employees to use the bathroom of their choice," it faced a boycott by some of its customers. However, Target did not decide to simply withdraw its policy, instead, it spent $20 million to create private bathrooms in all its stores (for transgenders to use). Target stood by its core belief of inclusivity. The brand ranked among the top three brands in the Community Marketing & Insight's (CMI) Annual LGBTQ Community Survey in 2015. However, the support for the brand rose from 20% in the 2015 survey to 50% in the 2016 survey, largely because of the stand it took for the transgender community.
CASE STUDIES
1. Absolut Vodka
Absolut "started referencing LGBTQ culture in the 1980s". It began by running advertisements in Advocate and After Dark, "magazines read by gay men" (in 1981). "Those first Absolut ads were later followed with events in bars, donations to charities and causes, outdoor advertising, sponsorship of the inaugural GLAAD Media Awards in 1989, and later the RuPaul's Drag Race (2009).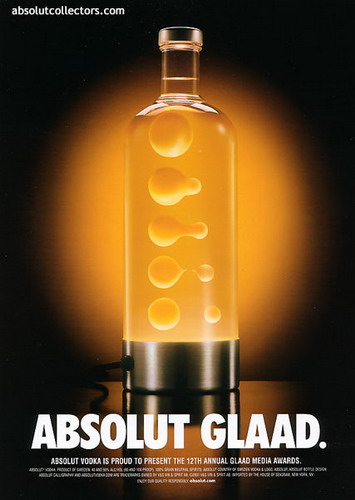 "In 1992, Absolut SPADA was introduced, a campaign featuring the work of designer David Spada – who created the iconic Gay Pride rings – and who was the first gay-specific creative from Absolut. In 2000, Absolut released an ad featuring, "Tom Ford, the (then) openly gay designer of Gucci," in Vogue magazine."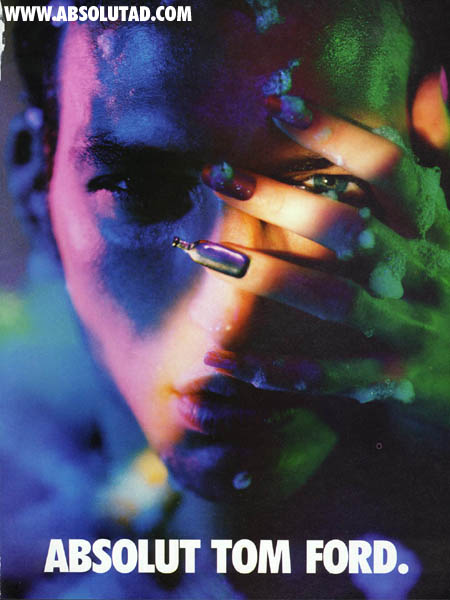 According to "Michael Wilke, the former executive director of the Commercial Closet Association, Absolut became the first big brand to commit to and pursue the market by being the first continuously present major brand in gay media."
Speaking of Absolut's support for the Pride movement, Kristina Hagbard, Global PR Manager for Absolut, said "It is a question of freedom. We believe in diversity and individuality. We do not believe in labels and prejudice." This has been a recurring theme in Absolut's advertising. In 2009, adhering to these values, the brand launched "a limited edition naked ABSOLUT bottle, with no label and no logo." It also created a "special website: www.absolut.com/nolabel (no longer active)."
Absolut has released Pride-inspired bottles over the years. In early 2019, they "released a bottle literally made from the extracted ink of hate signs and placards from protests around the world." In June 2019 (pride month), Absolut launched a colorful Pride-inspired bottle, Absolut Rainbow–designed in collaboration with Pride flag's designer, Gilbert Baker–this time as a permanent SKU, and not just for the Pride month.
Recent Creatives (16 months)
2. Skyy Vodka
Skyy "claims to be the first spirits brand to air an ad featuring a lesbian (or gay) couple, with "The Proposal" in 2002.
A series of other LGBT-oriented print ads have followed over the years: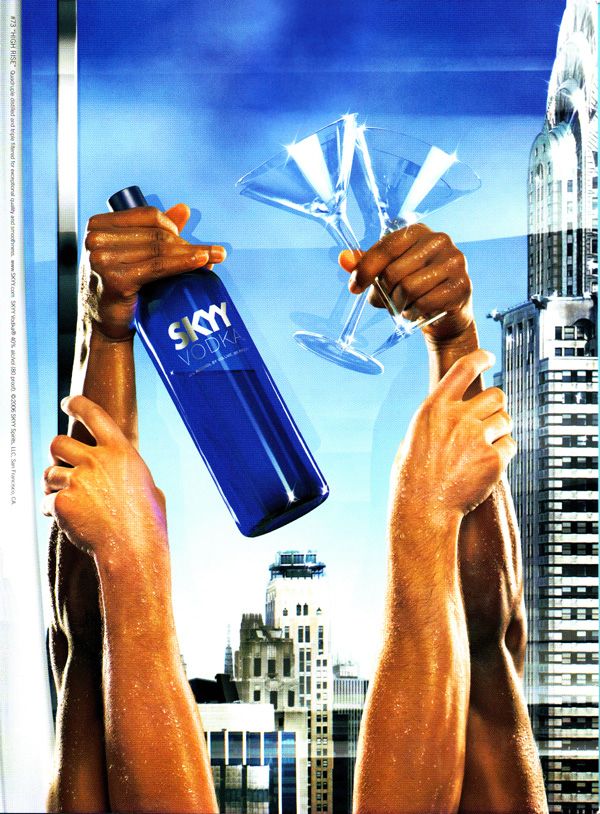 In 2014, Skyy teamed up with Freedom to Marry to promote gay marriages Together they hosted "a tour called the 'Toast to Marriage' Tour through which they raised "awareness and funds for Freedom to Marry." The tour event included "activities such as professional photographers taking portraits of couples that were then posted on the main website and on the Instagram account @toasttomarriage, using the hashtag #ToastToMarriage. Skyy also created a signature cocktail titled 'Commitmint', in further support and awareness for the event." Skyy Vodka continues to be vocal about gay marriage to this day.
In 2018, Skyy Vodka launched a campaign, "Proudly American," that included out-of-home, social media, digital, PR, and event activations. The "Proudly American" campaign celebrates American values of being brave, facing adversity, and celebrating diversity. "The campaign kicked off with the Home of the Brave ad, featuring Olympian Gus Kenworthy, and Trixie Mattel and Dusty Ray Bottoms from RuPaul's Drag Race. A 'Home of the Brave'-theme reflective photo op at the L.A. Pride Festival":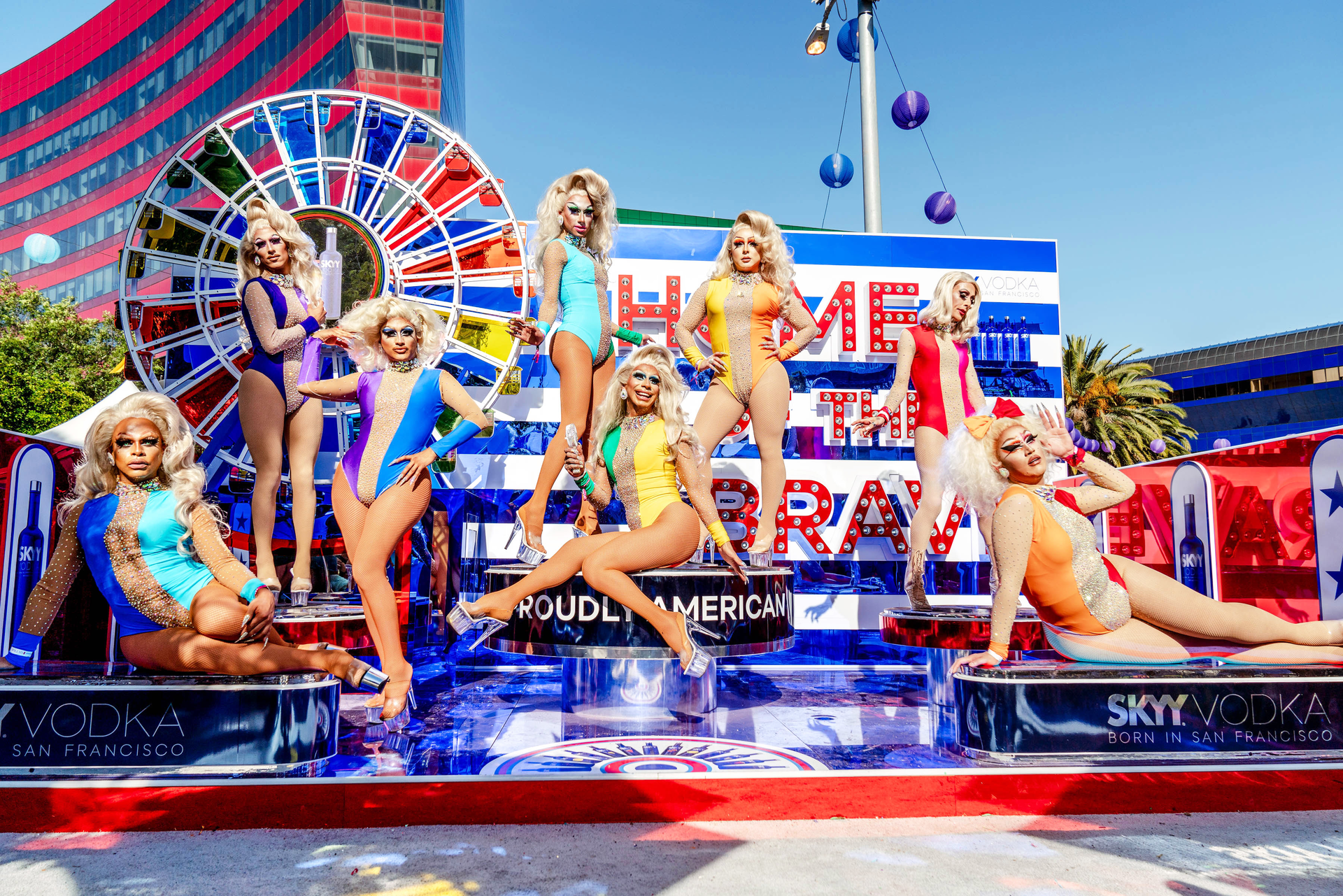 "Skyy Vodka sponsors Pride parades across the country, in Los Angeles, New York, New Jersey, Austin, and Palm Springs. It also supports transgender rights through partnerships with Freedom for All Americans and Amazon Prime's "Transparent." The brand has also sponsored/ funded events like the Queerties, Frameline, the MASQ Ball, and Outfest; as well as cause-oriented organizations Project Lazarus and the Stop AIDS Project."
Skyy Vodka was the "official vodka of both New York City WorldPride and Los Angeles Pride," America's largest LGBTQ+celebrations in 2019.
For the 2020 Pride festivities, Skyy is "centering and prioritizing Black queer people." The brand plans to change its "online branded banner advertising for Pride to display a simple, unbranded message: Black Trans Lives Matter. The non-branded banners will direct to organizations dedicated to protecting and defending the human rights of Black transgender people."
Recent Creatives (in 2020)

3. Stolichnaya/ Stoli
While Stoli has a 25+year legacy of supporting LGBT rights, in July 2013, "international LGBT supporters targeted Stolichnaya vodka after Russia implemented an 'anti-gay' law banning 'propaganda of non-traditional sexual relations' among minors in Russia. 'Dump Stoli' parties were staged at bars across" America and the brand became a target of outrage. A PR campaign by the brand followed with the CEO writing a letter supporting the LGBT community and Stoli "pledged $300,000 over the next three years in a partnership with the Los Angeles Gay & Lesbian Center.
"Stoli also created short animated videos designed to be shared socially. The videos, several of which offer a wink and a nod to the LGBT community, were part of Stoli's effort to further distance itself from the Russian government's anti-gay policies."
Stoli has been hosting the Stoli Key West Cocktail Classic, the largest annual LGBTQ bartender competition in the City of Key West since 2014.
In 2018, "Stolichnaya vodka released a limited-edition tribute bottle to celebrate the late gay rights activist Harvey Milk, who was played by Sean Penn in an Oscar-winning 2008 movie about his life." A portion of the sales was donated to the Harvey Milk Foundation.
Recent Creatives (~2 years)

As no other recent LGBT-focused creatives by Stoli were found, we have included a creative from June 2018: