High school students are in the developing stage of their life and they have very peculiar interests. A detailed analysis of high school students in the US as well as Asia, that focuses on the gaming habits, popular pastimes/hobbies, perspectives about online learning, and content consumption habits, has been provided below.
High School Students in the US
Gaming Habits
Pathological Gaming
As much as 8.5% of the younger audience aged 8-18 "pathologically" plays video games. Pathological gamers are defined as gamers that play games too often.
Playing video games does not usually cause problems for the players, however, those that play 'pathologically' can face problems in other areas of their lives.
9 Out of 10 Young People Play Games
What Parents Think About Teenagers?
The Time Invested in Gaming
 Over 50% of US parents reported that teenagers spend anywhere over 3 hours each day playing games.
Mott Poll, co-director of the C.S. Mott Children's Hospital National Poll, and Dr. Gary Freed reported, "Although many parents believe video games can be good for teens, they also report a number of negative impacts of prolonged gaming."
The Devices Used for Gaming
Popular Hobbies
Online Learning
The Inspiration for Online Learning
Student Perspective of Performance in Online Classes
On a scale of 1-5, '1' being 'very badly' and '5' being 'very well', students voted for a mean score of 3.8 for overall performance in terms of grades.
Lack of Activities
Communication
Communication with teachers, in online schools, has not been a problem for most students. 95.8% of students found teacher support, for school work, to be adequate.
Only 5.5% of students were not satisfied with the communication with teachers.
Most students, on average, rated communication 4.24-4.37 on a scale of 1-5 with '1' being 'not at all satisfied' and '5' being 'very satisfied'.
Motivation and Focus
Although students were found to be motivated enough to be able to complete their online classwork easily, they faced some difficulties in staying focused.
 72.4% of students reported being motivated to complete classwork, whereas only 8.5% of students found themselves either not motivated or having very little motivation.
 8.7% of students reported having difficulties staying focused in online classes, whereas 65.3% of students found it easy to stay focused. This ratio is still less than the students who found that staying motivated was easy.
Satisfaction
Students were found to be highly satisfied with their online learning programs. 83.1% of students rated their satisfaction levels at '4' or '5' on a scale of 1-5, where '1' is defined as 'not satisfied at all' and '5' is defined as 'very satisfied'.
 78.5% of students thought that online learning is better than brick-and-mortar schools, whereas 17.2% of students were not sure.
Content Consumption and Online Behavior
Online Interaction with Friends
Teens spend considerable amounts of time with their friends online. The time spent per week can stack up to a whole day or even more for 88% of teens.
Although teens also spend in-person time with friends, they are much more likely to interact with their friends online than in-person interactions.
Online interaction is an everyday thing for 60% of teens, as compared to those who spend in-person time with friends daily. This time excludes time spent in school or school-related activities. This data is elaborated in the graph below.
Source
Online Groups and Forums
Most Popular Groups
 41% of teens participate in online groups centered around hobbies, e.g. gaming. Another popular genre of groups is humor, which is visited by 40% of teens in the US.
Approximately 25% of teens have also reported spending time in groups relating to sports, fashion, or pop culture; while close-to 10% of teens also take part in groups focusing on religion, politics, or identity.
While boys are more likely to visit groups surrounding hobbies, e.g. gaming or sports, girls like to spend time in groups that relate to health and wellness, fashion, and even groups that target specific people, e.g. people of color or LGBT. Although there are contrasting interests for boys and girls, some of them also overlap, e.g. pop culture or humor. The image (below) charts the proportion of teens that visit different types of online groups.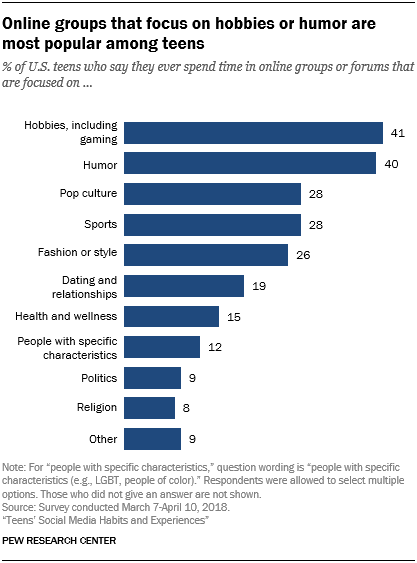 Source
Online Videos are Popular Among Teens
The past few years have seen an increase, from 34% to 69%, in the number of 13-18-year-olds that watch online videos every day.
Not only has the number of young people watching these videos grown considerably, but the amount of time spent watching online videos has also doubled from 30 minutes a day to approximately 60 minutes each day on average. This data can also be seen in the image below.
 
Favorite Platforms and Devices
According to another report by Awesomeness, which is a media company, 71% of teens love streaming videos.
Their favorite device for streaming videos is a smartphone, while their favorite platform is YouTube. The chart below describes the devices and platforms that teens enjoy streaming videos on.
 
Gen Z Enjoys Video Content
Gen Z, which teens are a part of, enjoy watching videos. On average, Gen Z'ers watch 68 videos every day.
YouTube, Snapchat, Facebook, and Instagram are some of the most likable platforms. The chart below provides a detailed analysis of the kind of videos that this generation enjoys.
 
High School Students in Asia
Gaming Habits
Youth Addicted to Gaming
A large portion of Chinese youth, including junior and senior high school students, are addicted to gaming, as reported in China Youth Daily.
The report found that 18% of youth in China spend at least 4-5 hours each day playing online video games.
Unable to Unplug Despite Recognizing the Risks
 41.3% of young people in China are aware that spending too much time online can be unhealthy, however, that does not stop them from doing so. They say that they are not in control and are unable to stop playing online games.
Zhou Huazhen, a scholar with the Chinese Academy of Social Sciences (CASS), said, "Internet addiction is relevant to our lives. Almost one in every five youth has already been or is likely to become addicted to video games."
The Preferred Devices and Game Types
According to a study conducted on high school students in the Western Black Sea region, students reported playing digital games on smartphones (50%), laptops (34.4%), PC (6.2%), consoles (3.3%), tablets (3.3%). There was another segment of students (19.1%) who preferred going to internet cafes to play games.
Single-user digital games are preferred by 72.2% of students, whereas 27.3% of students also play multi-user games.
 75.9% of students who play multi-user games play them with strangers over the internet, while 23.4% of students play with their friends, and 0.7% even play with their parents.
Frequency of Playing Online Games
The Gaming Disorder
The WHO (World Health Organization) now officially recognizes gaming addiction as a disorder and calls it the gaming disorder. It is characterized by the negative impact of video games on the jobs, education, family, and social lives of those addicted to gaming.
Reportedly, the gaming disorder is more prevalent in Asian countries, as opposed to other regions of the world, e.g. Europe or North America.
Reports suggest that gaming disorder is prevalent in 10% of kids in China, whereas it is found in only 1-2% of kids and teens in the US.
Popular Pastimes
Online Learning
The Flexibility with E-Learning
Enhancing Computer and Internet Skills
Students also thought that e-learning can help them in enhancing their computer and internet skills. They rated this factor with a mean score of 4.29.
In the same vein, students perceived e-learning as something that can have additional advantages rather than having disadvantages.
Distracted while Learning Online
With internet addiction rates as high as 26.5% in China, students find themselves overwhelmed with the distractions they face while attending online classes.
With schoolwork, social and extracurricular activities all being online, especially during the lockdown due to the pandemic, students have been spending more time over the internet, which has been a source of concern for the parents as well.
Online activities that distract students are also prevalent among the Chinese. These activities include social networking with a prevalence rate of 94.73%, entertainment with a prevalence rate of 82.44%, internet gaming with a prevalence rate of 73.42%, and shopping online with a prevalence rate of 33.67%.
Self-Expression in Online Learning
A study of 30 students, aged 16-18, in Turkey found that students had no problem in expressing themselves and their opinions comfortably.
The study also found that some students had some level of difficulty in expressing themselves initially, however, those students overcame that issue with the help of teachers and peers.
Online Learning is Effective
A survey of 13-24-year-old students from 24 countries, including the Philippines, Indonesia, and Bangladesh, revealed that 40% of students enjoy learning over the internet. This not only included learning for school but also for other areas, e.g. health.
Additionally, the same survey found that 24% of students also used the internet to learn additional skills, i.e. those that are not taught at school.
Content Consumption
Device Preference by Type of Content
According to a study by JustSystems with Japanese youth ages 15-19, 71.5% of music listeners mainly use their smartphones to listen to music, while only 10.3% mostly use devices other than smartphones for music.
Almost the same proportion, 71.2%, use their smartphones to view video content, while 8% of viewers use other devices for video content consumption.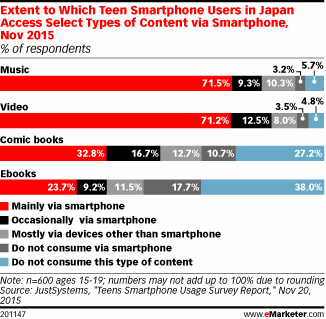 Social Media Usage
Spending Time Online
According to a study that focused on Chinese youth, 41.3% of young people in China recognize that overuse of the internet can accompany health risks, but they are still unable to control themselves.
According to earlier research conducted in 2010, only 6.7% of students would spend over 6 hours over the internet every day. That proportion has clearly grown and it may be a concerning factor for students and parents.
 Increasing internet addiction can cause problems in other areas of children's lives.
Time Spent on Types of Media
The JustSystems study with Japanese 15-19-year-olds found that teens spend an average of 2 hours and 33 minutes using their smartphones every day.
TV came in second on the list with almost 2 hours of daily time spent. Desktop/laptop internet (64.3 minutes), magazines (18.5 minutes), radio (12.6 minutes), and newspapers (10.9 minutes) followed on the list. The chart below elaborates on the time spend on different media types.
 
Most Popular Apps on Smartphone
LINE, a communications app, was the most popular app among Japanese teen smartphone users.
The list of most popular apps continued with video apps, Twitter, Instagram, music apps, gaming, and entertainment apps.
Research Strategy
This research has highlighted the gaming habits, popular pastimes/hobbies, perspectives about online learning, and content consumption habits of teens in the US and Asian countries. In the course of this research, we had to rely on some older sources to extract relevant data. We have used old sources wherever helpful insights that directly relate to this research were found. Initially, we tried to find the most recent sources, however, we had to resort to older sources wherever recent sources were not available.For the part of the research that focuses on US high school students, we have provided data for the US only. However, for Asian countries, we have used data from specific countries, e.g. Japan, China, Singapore, and Turkey, as a proxy for Asian data. In most cases, overall data for Asian countries was not available, which is why we had to resort to individual countries.For the part of the research that lists down the most popular pastimes of high school students, we were unable to provide a concrete distribution of the most popular pastimes and/or hobbies. To compensate for that, we have provided as much relevant information, from a diversified range of sources, as possible.This research has focused on high school students wherever possible, however, most sources do not discuss high school students. Alternatively, we have used other descriptions for high school students to locate helpful sources. In doing so, we have used the suggested age group, i.e. 14-18-year-olds; the closest generation, i.e. Gen Z; and the closest age bracket, i.e. teens. We also had to use a little broader age bracket in some cases in order to source helpful information. It should be noted that the use of broad age ranges is still valid as they include the target age range.