The key elements to any pharmaceutical company's business models are customers, channels, partners, and competitors, and digital is changing how pharma approaches this. Building digital capabilities must be a fundamental driver of a pharma company's overall strategy. We have curated seven pieces of information, data, and/or statistics surrounding what consumers, and then separately eight pieces of information, data, and/or statistics surrounding what health care providers, are seeking and expecting from pharma websites. Additionally, we have also presented nine pieces of information, data, and/or statistics surrounding why it's important for pharma companies to improve the digital experience for all of their stakeholders, which include consumers, health care providers and health systems/hospitals, as well as two industry trends in the pharmaceutical sector that surround digital transformation. Finally, we have provided six pieces of information, data, and/or statistics surrounding COVID-19 and how it is impacting pharmaceutical companies and their digital marketing.
Pharma Websites: Expectations From Consumers
According to data curated from a survey conducted by Doctor.com, consumers are seeking and expecting pharma brand websites to provide them specific information. In fact, quite a large number of them want the website to offer them treatment information, the ability to find a doctor, and a way to book appointments. Digging deeper into that insight, eighty-eight percent of consumers surveyed specifically want pharma brand websites to feature a find-a-doctor directory, and eighty-one percent said they were more likely to use a brand website that has a doctor directory. Looking directly at Baby Boomers, nearly 80% of people over 60 would find a doctor directory on a pharma brand site helpful.
 
 Brand loyalty is a key reason why pharma websites should be concerned about what consumers are looking for on these websites. When asked, almost fifty-six percent of consumers said they would actually be more loyal to a pharma brand or product if its website offered tools like a doctor directory and online appointment scheduling. More than sixty percent also revealed that the doctor directory is so important to them that it would increase their loyalty to a doctor.
 
The fact is, however, even given these startling statistics, few pharma brand websites have these tools for consumers to engage with. According to Josh Kramon, VP of life sciences at Doctor.com. By ensuring that directories and online appointment features are available on consumer focused pharma websites, these companies can obtain appointment level data which in the end can help patients who want privacy to feel more comfortable. "Pharma spends a lot of money in media to get patients" [to their website] Kramon was quoted as stating. "But if the patient wants to get that medicine," he continued, "they will lose that patient to the web to find a doctor where they may have a bad experience. Keeping them in that walled garden presence of [the pharma brand's website] keeps them from seeing competition and controls their experience."
Today, consumers rely on pharmaceutical brand websites almost as much as they do their primary care providers when it comes to researching information on medications and medical devices (52.2% versus 54.8%, respectively), which suggests a major shift in patient preferences.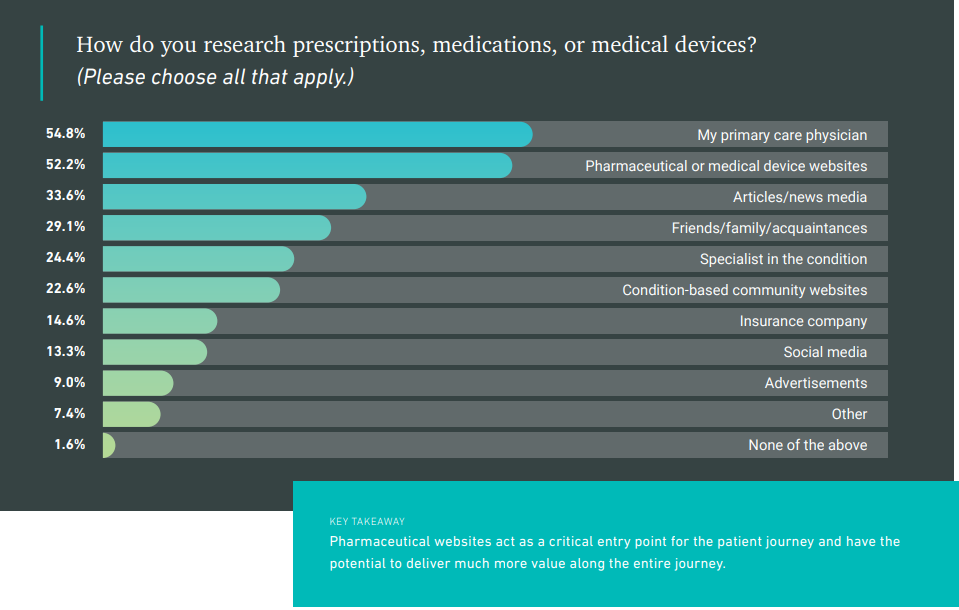 Respondents to the survey were brutally honest when stating that "finding the right doctor" is the #1 barrier to accessing treatment or medication, meaning patients struggle to locate qualified specialists to further educate, diagnose, and treat their healthcare conditions. "While these patients are ready and willing to appoint a doctor, many will lose their way." This presents both a challenge and an unprecedented opportunity for pharmaceutical brands to help patients access treatment and improve adherence.
 
Interestingly, the Cybercitizen Health U.S. 2018 report from the Decision Resource Group appears to show two different sides to consumer engagement with a pharma website. On one hand it reveals that sixty-five percent of consumers will use a search engine, fifty-eight percent will use social media, and fifty percent will use online video to find answers to health questions versus forty-two percent of consumers choosing to visit a pharma website to obtain information. This suggests that there is a possibility that pharma brand sites are no longer essential to a consumer's digital experience. However, when it comes to the treatment journey of a patient, that same report also shows that branded consumer pharma sites actually play an important and pivotal role. The study reveals that after a patient receives a diagnosis, twenty-seven percent of them will engage with a pharma site. More importantly, these interactions on the website are motivating consumers to take action. For example, when landing on pharma website post-diagnosis, forty-four percent of consumers request a medication by name. As the post diagnosis part of the consumer journey is key, pharma brands should likely optimize their experiences to encourage more use of the website.
Direct-to-consumer (DTC) ad spending in the pharma category is rising. According to Julia Phelan, executive vice president and executive director of FCB Health, "Consumers are changing the way they manage their health. By speaking directly to patients, pharma brands are educating consumers on possible treatments. [Patients] can't write themselves a prescription, but they can ask the right questions."
Pharma Website: Expectations From HCPs
 
Importance of Digital Experience Improvement
This new frontier of consumer engagement requires pharmaceutical companies to consider factors that were less impactful in the past. For instance, the needs of consumers, in addition to businesses, are now factored into customer support strategies. Pharmaceutical companies are also in a position to play an educational role by helping end consumers get the most from their medications or ensure correct administration or dosage.
Over half (51%) of U.S. consumers consider relevant offers or rebates from pharmaceutical companies to be very important, suggesting there may be an opportunity in some markets to take cues from the modern retail playbook and take this digital.
Sadly, only fourteen percent of consumers state that they completely understand communications from pharmaceutical companies which suggests that they need to do a better job in conveying data in layman's terms across all their digital touchpoints to increase engagement, drive preference, and improve outcomes.
 
Customer experience in pharma has bottom line impact, according to a quantitative McKinsey study. It clearly shows that by "paying more attention to the customer experience, (pharma) companies can not only increase satisfaction but also boost sales and market share". Pharma customers, whether we're talking about HCPs, patients or payers, are people too, and the basic behavioral principles of customer experience apply to them just as they do in every other business environment.
Digital Transformation Trends: Pharmaceutical Sector
Trend #1: The Importance of Big Data
 
Trend #2: Artificial Intelligence
 
COVID-19: Digital Marketing Impact on Pharma Companies
 
 
 According to MM&M, messaging techniques that pharma companies used pre-pandemic might have been effective, but now may sound tone-deaf when the world is fearful and on edge. To combat that, three principles are being suggested for digital pharma marketers to build on the core best practices already developed by healthcare brands. They are to be responsible, to be adaptable, and to be authentic.
Most healthcare marketers say they're slashing promotional budgets this year because of COVID-19, as they ramp up use of digital. According to a poll done in April 2020, 46.2% of healthcare marketers said they're reducing 2020 budgets, versus 18.5% revealing they would be increasing their budgets. Another 35.3% reported that there would be no change in their spending. "A further 75.9% reported that COVID-19 was either a significant or very significant factor in those decisions."