The global COVID-19 pandemic has disrupted many industries in many ways, from labor safety to supply chain. Manufacturers and distributors are among those largely affected. While economies around the world are slowly starting to reopen, there is still uncertainty what the "new normal" will be in the future. Below is a summary of key findings on how the pandemic is expected to impact U.S. manufacturers and distributors in the near future and what the recommended responses may look like. Note that the impact will depend largely on the outcome of the virus containment efforts and each subsector will be impacted differently.
Impact on Manufacturers
Financial Impact: Liquidity, Closure and M&A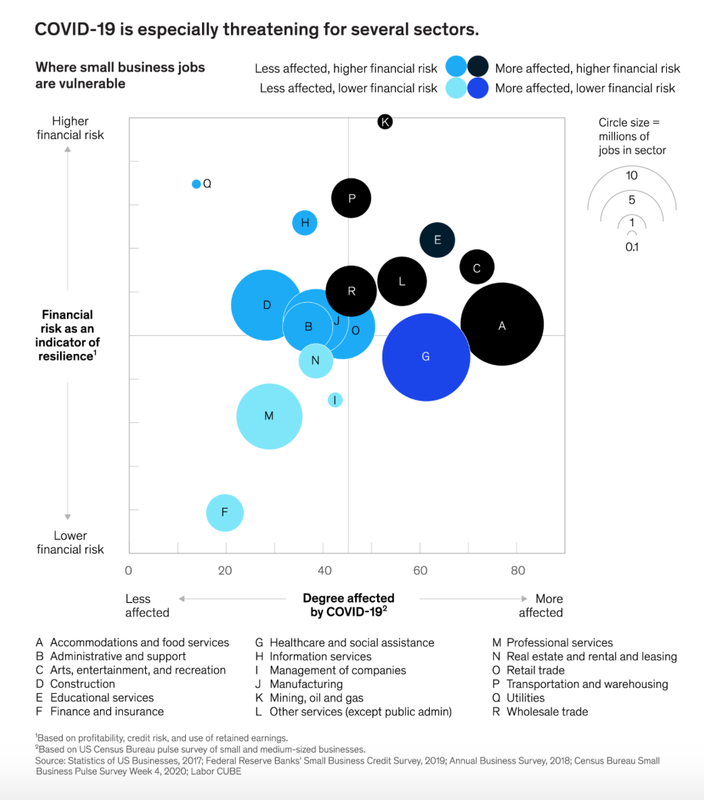 With downward pressure on demand, production and revenues, many manufacturers "are facing cash-flow liquidity challenges and difficulties in managing debt obligations." PwC suggests that "the industry may see some manufacturers struggle to recover — and even declare bankruptcy — depending on how robust and effective any government intervention and support may be, and how long the COVID-19 crisis lasts."
As seen in the figure below, there is a lot of uncertainty for the future of manufacturing, compared to other sectors, with a large variation in projected recovery. If COVID-19 is contained, recovery may happen as early as in the fourth quarter of this year; thus, 2021 would see a "back-to-normal" scenario. Without successful containment, recovery may happen as late as beyond 2025.
According to Ernst & Young (EY), "only essential spending is happening, and other than deals that might have already been in flight or were near closing, M&A in general is on hold. In some cases, even those close to completion are being tabled. We are, however, starting to see an increase in distressed M&A in the current and near-term environment."
Among the financial implications on manufacturers are falling valuations. According 22nd edition of the EY Global Capital Confidence Barometer (CCB) in April, 47% of "advanced manufacturing executives expect valuations to fall in the next 12 months." Thus, the decline will continue well into 2021. As a result, hostile M&A activities are anticipated as in the pre-pandemic period high valuations were seen as a barrier to M&A in the manufacturing sector.
"We can certainly expect a more hostile environment in the coming year, and perhaps beyond, which will see as much activity from private equity as it will from corporate buyers," said David Gale, EY Global Advanced Manufacturing Transactions Leader.
Operations and Supply Chain
With the challenges facing operations, the pandemic may also lead to more automation in manufacturing. While only 7% of manufacturers have added or expanded automation in addition to the 20% that already have systems in place, 23% are considering automation. This suggests the coming year may see more adoption of automation. See the figure below.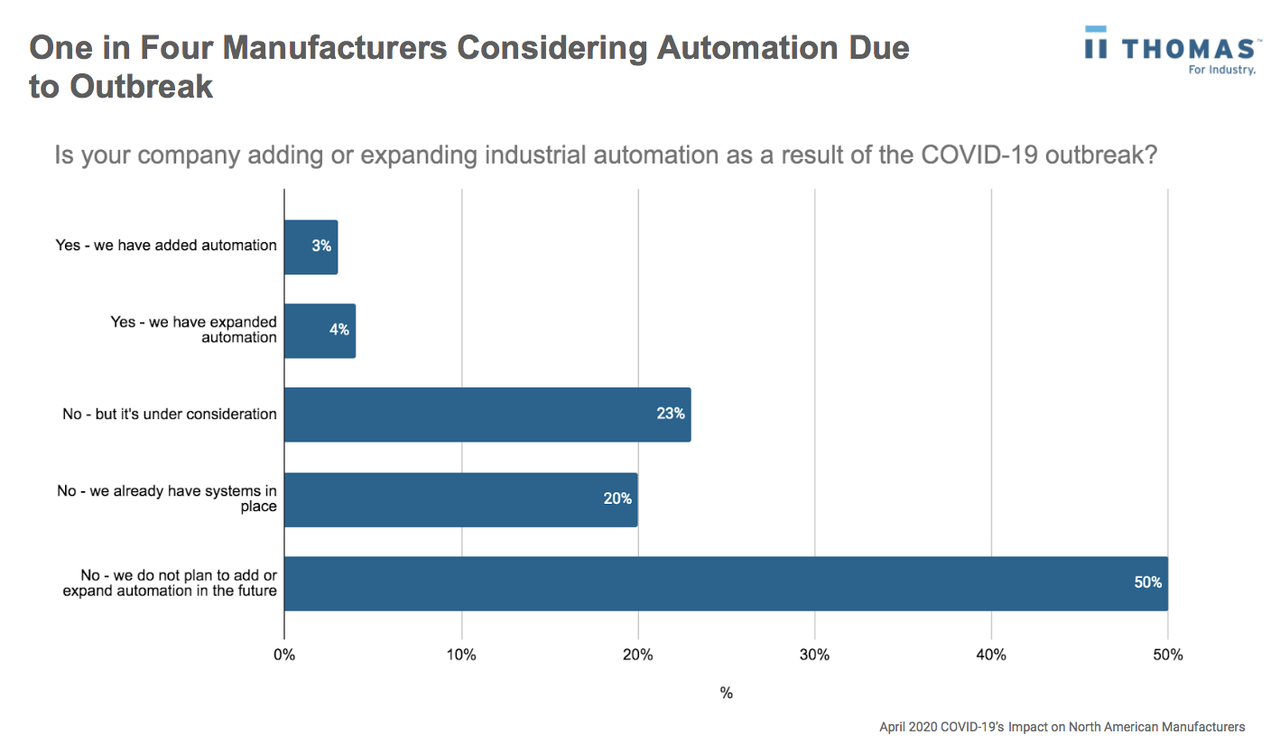 Impact on Distributors
Financial Impact
Operational Impact and Supply Chain
Recommended Responses
ADDRESSING FINANCIAL IMPACT

PwC provides the following steps to consider for addressing financial impact of COVID-19:
ADDRESSING OPERATIONAL IMPACT

PwC provides the following steps to consider for addressing impact on workforce:
PwC provides the following steps to consider for addressing impact on operations and supply chain: