Leveraging Data Across the Company
Nike and PepsiCo are two examples of brands that are leveraging data for each aspect of their business from production to fulfillment to marketing and advertising. During the current COVID-19 pandemic, Nike's digital sales increased to 30% of total revenues and PepsiCo made $13.9 billion in sales, higher than Wall Street projection of $13.21 billion.
Nike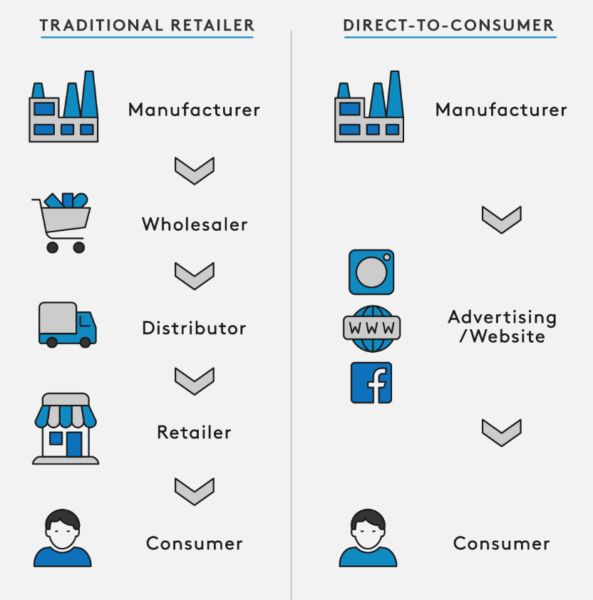 Through the effective use of customer data, Nike has been able to improve its "customer acquisition and retention by identifying which customers to target and predicting the right time to target them". The company has also been able to manage its local supply chain networks.
Nike's investments in digital and data analytics capabilities paid off during the current COVID-19 pandemic as online sales rose by 75% between March and the end of May 2020, "new membership registrations to Nike apps more than doubled to 25 million", and digital sales increased to 30% of total revenues.
PepsiCo
PantryShop.com and Snacks.com were created within 30 days by leveraging the customer data insights, resources, technology, and inventory to meet the evolving needs of consumers.
Research Strategy
While we focused on data from February 2020 – present (e.g. COVID-era), we expanded to the past 12 months because the strategy of leveraging data to integrate each aspect of a business has to be developed and deployed over time for it to yield the desired result. Both Nike and PepsiCo were able to perform better than most of their competition in the current COVID-era because they could easily implement data integration strategies that they have developed before the pandemic.According to industry experts, brands that did not have digital and data analytics capabilities found it difficult to thrive during the lockdown. According to Nike CEO John Donahoee, "COVID-19 has shown that our strategy is sound, the company would continue to maintain its focus on its digital strategy".
Integrating New Data Strategies
The research develops two brief business cases on the integration of data strategies in marketing and advertising campaigns. Although both of them are in the retail space, one is the incumbent (Nike) while the other (Harry's) relies more on the direct-to-consumer business model. Overall, there is a shift towards the direct-to-consumer business model, which is driven by the competitive advantage formed through data analytics and accurate, targeted marketing campaigns.
Nike
The multinational footwear, apparel and equipment manufacturer has started to focus on its direct-to-consumer business model with the support of customer data and predictive analytics. Nike uses data collected from the Nike app to improve the retention and acquisition of customers through an enhanced understanding of customer journey and demand prediction. Predictive data analytics allows the company to correctly choose which customers to target and when to target them.
The deployment of the new business model is triggered by recent new startups in the retail space and Nike being not the real owner of customer data on e-commerce platforms, such as Amazon. The shift of business model is expected to be accelerated by the COVID-19 global pandemic, which has caused people to reduce the visit to brick-and-mortar shops and increase the exposure to the online browsing and ordering of goods.
Nike's recent marketing strategies have been largely driven by big data and the Nike Direct initiative aims to cut down on the number of intermediaries between manufacturers and consumers. The direct-to-consumer initiative has generated a sales revenue of $10 billion in 2018 and is expected to grow by 60% by 2020.
Harry's
The American firm manufactures men's shaving gears and personal care products online and via retail stores. The business is primarily driven by its e-commerce platform where Harry's collects data and generates insights on the customer journey. The company used the online referral system by offering new products to a group of customers for free, in return for a certain number of friends to be on the waiting list of the products. The emails of referred friends together with referrals obtained via its social media channel put together a significant amount of data that inform precise marketing campaigns.
 Direct-to-consumer business is driven by the trend of online shoppers, especially millennial customers, and the real-time order fulfillment for both consumers and businesses. The outbreak of COVID-19 has further advanced this trend, as there has been a noticeable change in consumer behavior, such as online purchase, delivery service, and curb-side pickup.
The product prelaunch initiative has turned out to be a great success for the razor company, which uses advertising as the source of data to develop more accurate, targeted marketing campaigns.
Research Strategy
The research reviewed a series of papers, marketing insights, news and case studies. There is limited information publicly available on data integration marketing case studies since February 2020 or over the past 12 months before September 2020. By following digital marketing trends, we identified two brief business cases published during the period of the COVID-19 global pandemic. In line with the trends pre-COVID, we incorporated new trends induced by the pandemic, which supplements the motivation for integrating new data strategies in marketing campaigns.
AI for Marketing
With most companies collecting first-party data about their customers, many brands are turning to AI techniques to glean actionable insights from all that data. Brands across industries are leveraging machine learning and predictive modeling tools to predict customer behavior, determine their most valuable audiences. They leverage AI to offer digital and personalized consumer experience by organizing, improving and streamlining tasks such as generating custom experiences, personalized emails, offers, and chatbots.
Smart Segmentation
Brands use AI and smart segmentation to identify the best target audience for their products. Through a much quicker and accurate process, brands can even find more specific customer segments within these identified target audiences, allowing the brands to offer more personalized and unique customer experiences.
Establishing Relationships with Customers on Their Terms
As much as brands use AI to segment target groups, they also have to get their messaging right through the right channels and right time. Brands leverage AI to prepare the right messages, determine the quantity of those messages to deliver to each customer, and select the proper channels to ensure customer engagement.
Through an analysis of the number of messages sent to customers and the number of active customers, brands are able to get a good picture of their target audience's preferences for interacting with their messages.
Providing Curated Content to Each Segment of a Target Group
After identifying target audiences and the best ways to engage them, brands still use AI to make product recommendations tailored to the expectations of each target group segment based on the behavior of web browser users and product similarities. This means that brands are more effective in introducing customers to products they most likely buy.
Solving Attribution Challenges
Brands are leveraging AI to connect and analyze online and offline customer behavior at scale, making it easier to determine which cross-channel campaigns are most engaging. The insights derived through AI, brands are able to cut back underperforming campaigns and increase their advertising ROI, even as the environment has become more competitive.
Where Do D2C Brands Stand in All This?
D2C brands don't have to beg for customer insights and are able to retain all their first-party customer data without sharing with retailers. They have details about their customers, including the time and channels through which they purchase products, as well as insight into returns and customer feedback.
All of this data presents a significant advantage to D2C brands over traditional retailers. D2C brands are able to maintain full control over their business, including product development, messaging, go-to-market strategies, and expansion plans. More control over customer data means they can more easily "expand their audience of prospective customers by identifying similar consumers who may be interested in the brand."
Data Privacy Laws
We had to expand the scope of our research to include larger companies that service consumers, in order to find most of the insights about how brands/companies prepared for/complied with the new data privacy law called the California Consumer Privacy Act (CCPA), which was the only data privacy law we found such insights about that was implemented within the past year. The companies we found such insights about were Dollar Shave Club, Bonobos, Walmart, Target, Amazon, Sherwin-Williams, Thumbtack, Hulu, Condé Nast, and Postmates.
Dollar Shave Club
Dollar Shave Club is an example of a D2C brand that updated its Privacy Policy to ensure compliance with the CCPA.
A pertinent part of that policy states as follows: "You also may request to opt out of DSC's sale of your Personal Information to third parties, and to our affiliated companies that do not share the same brand name, for their commercial use. This means that, if you opt out, going forward, we will not share your Personal Information with such third parties to use for their purposes unless you later direct us to do so. To effect the opt out, please click on the Do Not Sell My Info link which also is on our website footer."
Bonobos
 Bonobos is an example of a D2C brand that appears to have added two new buttons to its website, in order to ensure compliance with the CCPA.
Those buttons state "Request My Personal Information" and "Do Not Sell My Personal Information."
Walmart
Walmart has been working through legal ambiguities within the CCPA, such as "the language around loyalty programs and if retail companies can offer them going forward."
Walmart also increased its investment for creating data maps with regard to the CCPA, which enables the company to "collate the extent of personal information collected by different business units, where and how this information is stored, what they do with it and who it is shared with."
In further regard to the CCPA, Walmart's various business teams, such as advertising and technology, were "investing resources in auditing and making decisions on how to respond to requests from customers to see their data or those who ask for it to be deleted."
Target
A spokeswoman for Target stated that in light of the CCPA, the company would include "a 'Do Not Sell' button on its website, [which] will be visible to all U.S. shoppers and California residents will have access to information outlined under the new law."
Amazon
According to a spokeswoman for Amazon, the company's preparation for CCPA included "launch[ing] a revised privacy notice and . . . review[ing] the final regulations to 'understand what signage may be required to inform customers how to find the privacy notice' at its stores."
The spokeswoman also noted that Amazon did "not plan to put a 'Do not sell' button on . . . [its] website because Amazon is not in the business of selling customers' personal data and it never has been."
Like Walmart, Amazon also increased its investment for creating data maps with regard to the CCPA, which enables the company to "collate the extent of personal information collected by different business units, where and how this information is stored, what they do with it and who it is shared with."
Sherwin-Williams
According to Reuters, paint retailer Sherwin-WIlliams placed links pertaining to the CCPA on its "websites in California."
Thumbtack
Thumbtack's CEO "assigned staff on his engineering, product, marketplace, policy and legal teams to prepare the company for the new [CCPA] rules. But he hopes to have them back to their regular jobs soon. "
Multiple Brands
Many brands, including Hulu, Condé Nast, and Postmates sent emails to their customers notifying them of updates to their privacy policies in advance of the CCPA going into effect.
Research Strategy
We looked for insights about how consumer brands prepared for/complied with new data privacy laws, such as the CCPA, but we could not find much information about that. The vast majority of the information available about this topic was advice for how companies can comply with such data privacy laws. However, little information about how specific consumer brands prepared for/complied with such laws was found. Based on the limited findings about such even for large companies, a potential reason why this information was not readily available is that companies likely don't want to publicly discuss how they are preparing for/complying with such laws.
We looked for the information about preparation for and compliance with new data privacy laws in the U.S. in three ways. First, we reviewed numerous articles about such from sources including Forbes and Ad Week. Second, we tried expanding the scope of our research beyond February 2020 to the past year, but that also did not yield many insights specific to consumer brands (though it did yield insights about some of the companies identified above). Third, we expanded the scope of our research to include companies that service consumers, instead of just consumer brands. By doing so, we were able to find insights about how companies prepared for/complied with the CCPA. We also tried looking for such information about another major data privacy laws implemented in the U.S. within the past year (New York's SHIELD Act), which went into effect on March 21, 2020. However, we could not find any information about how any brands or companies had prepared for/complied with the SHIELD Act. The CCPA and SHIELD Act were the major, new data privacy laws we found that went into effect within the past year in the U.S., which is why our research focused on those two policies.
1st Part Data
Some brands taking full ownership of their first (1st) party data and using it to their advantage include Nestlé (an incumbent company), Kopari, E.l.f. Cosmetics, and Califia Farms. Following the outbreak of COVID-19, D2C startup brands like Kopari and Califia Farms are leveraging new "channel[s] to connect" with their customers and promote online shopping.
Nestlé
Kopari
E.l.f. Cosmetics
Califia Farms
Califia Farms is a manufacturer of plant-based milk products and uses first-party data obtained from its e-commerce website to optimize and launch new products. It is a leading, privately-owned, plant-based beverage and food company. The farm has a D2C e-commerce website.
Califia Farms has sourced essential data related to its customers' preferences from its D2C channel. It utilizes these insights to identify suitable offerings, optimize its packaging designs, and customize its messages to improve its core audience's experience.
In May 2020, Califia Farms successfully launched two types of vegan butter made from sea salt and avocado oil and olive oil with sea salt. The company uses first-party data to streamline its product development as well as its distribution processes.
Research Strategy
The study has examined several reports, market analysis, and case studies of brands taking full ownership of their first-party data and using it to their advantage. The research focuses on case studies or success recorded and (or) reported after February 2020 (after the COVID-19 pandemic started). The research brief considers success metrics associated with first-party data as increased sales revenue, click-through rate, or engagement rates. It also assumes that maintaining quality results with less marketing efforts by leveraging first-party data indicates a successful strategy.