Pre-Paid Wireless: Trends
Sales of prepaid wireless service appear to be increasing following several years of decline, according to industry experts. Additionally, prepaid wireless service providers are evolving their plan offerings to match postpaid plans, and loyalty rewards are emerging from multiple providers.
1. COVID-19 Could Drive Consumers Back to Prepaid Options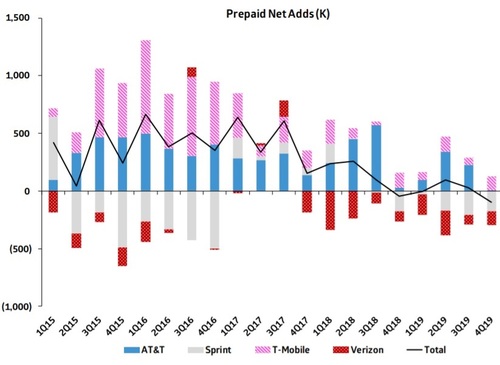 2. Prepaid Wireless Providers are Evolving to Match Postpaid Features
In an effort to keep customers on prepaid plans, attract new customers from postpaid plans, and attract new customers to the wireless market altogether, prepaid wireless providers are evolving their plans and features to be more similar to what costlier prepaid plans offer.
Verizon Wireless is the leading example in this trend as it now offers "prepaid family plans, unlimited plans, and support for BYOD" [Bring Your Own Device].
These offerings are all new to Verizon within the past few years, signifying how recently the need for evolution in prepaid plans to stay competitive in the market.
3. Loyalty-Based Rewards Emerge for Prepaid Customers
Wireless service providers are seeking additional methods of creating incentives for customers to stay with or adopt their prepaid wireless plans with newly-launched loyalty programs.
In June, Verizon launched new prepaid plans that become less expensive over time. The plans lower by $5 after the first three months and $10 after nine months, in addition to up to $15 less for signing up with Auto Pay.
AT&T is offering discounts to customers who prepay in larger amounts to commit to a longer relationship with the company. Rather than paying $40 a month for 8 GB, for example, customers can pay an annual cost that works out to $25 a month.
Pre-Paid Wireless Carriers Marketing their products in Non-financial Stores
Two examples of prepaid wireless carriers marketing their products in non-financial stores are the campaigns of AT&T and Verizon at Walmart.
Findings
1. AT&T and Walmart
In 2019, AT&T partnered with Walmart to promote an exclusive prepaid plan.
The offer was advertised in-store with their own displays and large posters.
The messaging focused on the benefits of the offer such as high-speed data, a mobile hotspot, calls and texts to Mexico and Canada, no annual contract, and no credit check.  
It also emphasized which plan is exclusively available at Walmart.
The main tactic was to offer Walmart's customers something exclusive. In this case, after fulfilling certain conditions, they could get 25 GB of high-speed data at the price of 8 GB.
The campaign only lasted for the better part of July 2019. The associated visuals, both in-store and online, didn't include any additional messaging, apart from the details of the offer and the information that it's exclusive at Walmart.
2. Verizon and Walmart
Additionally, there are also in-store ads that talk about specific updates to the offers such as the one that says "Verizon Prepaid. Now with Always-On Data. Stay connected even after you have used your high-speed data."  
Some ads also include details about the offer, including information like "Carry over unused data" or "Unlimited talk to Mexico and Canada."  
According to a review by Smartphone Matters, the offers were advertised both in the wireless prepaid sections at Walmart and before the stores.
Additional Findings — Tracfone's Total Wireless
While we didn't find enough information to describe Tracfone's Total Wireless promotion at either Walmart, there is one image available.
In 2017, the Total Wireless plan offered bonus data for Walmart shoppers, though it was only available in certain stores.
Marketing Efforts by Pre-paid Wireless Carriers in Financial Stores
Verizon Prepaid and Boost Mobile's logos are at the front of Detroit Check Cashing. Boost Mobile is also featured on the billboard by Easy Money Cash Center. However, there are no details on their in-store and on-premise advertising in financial services stores.
Helpful Findings
Detroit Check Cashing store's front includes large logos of Verizon Prepaid and Boost Mobile.
Boost Mobile was included on Easy Money Cash Center's billboard.  
While the above image doesn't clearly show if it is located just outside the store, a larger photo suggests so.
Pre-Paid Wireless: Customer Journey
Research findings suggest that prepaid wireless shoppers in the United States are discerning consumers who want value for their money. Coverage, cost, data speed, customer service, and call, text, and data capabilities appear to be important purchase considerations for them. Prepaid wireless shoppers typically make the purchase at the retail store, but they are increasingly accessing online channels such as the carrier's website for research purposes.
Purchase Motivations
Purchase Considerations and Product Preferences
Prepaid wireless shoppers have several purchase considerations when choosing a prepaid wireless provider. Their most important considerations are call quality (24%), company image (19%), service cost (17%), account management (15%), initial activation (11%), service plan options (8%), and customer service (6%).
Prepaid wireless consumers are increasingly giving more weight to data payload or the apps that use data than to data itself because of the over-the-top (OTT) applications that are emerging.
 Price matters more to prepaid wireless customers than to postpaid wireless customers.
 IDC has published a report on the behavior and preferences of prepaid wireless customers, but unfortunately, the report is paywalled.
Given what product experts consider are the best prepaid wireless plans, prepaid wireless shoppers are likely to go for prepaid wireless plans that offer the following features at the lowest possible price: wide coverage, unlimited data, talk, and text, standard-definition video streaming, high-speed data, and mobile hotspot and global texting capabilities.
Research and Purchase Channels
Post-Purchase Characteristics
Prepaid wireless customers are known to switch plans or drop their service more frequently than postpaid wireless customers.
When it comes to loyalty, postpaid customers tend to be more loyal than prepaid customers. Customer churn has long plagued the prepaid wireless industry.
Pain Points
Not much can be found on the pain points of prepaid wireless shoppers, but J.D. Power's latest purchase experience study shows that as far as purchase experience is concerned, the prepaid full-service carrier that customers are least satisfied with is Virgin Mobile, while the prepaid value carrier that customers are least satisfied with is TracFone.
These carriers were rated using the following factors: cost of service, offerings and promotions, phone sales representative, store sales representative, store facility, and website.
It seems customers are dissatisfied with carriers whose sales representatives did not take the time to explain their plans' network coverage.
Research Strategy
To gain insights into the customer journey of prepaid wireless shoppers, we looked into what prepaid wireless providers have shared about their customers or shoppers, including how they have described their customers or shoppers and what these customers or shoppers' preferences are. We looked for surveys of prepaid wireless customers as well.