This research presents pieces of information, data, and/or statistics that demonstrate how brands connect emotionally with consumers during a crisis, specifically the COVID-19 pandemic and the overall information into emotional marketing and storytelling techniques. In addition, this research will present case studies of brands that have successfully campaigned during the COVID-19 pandemic. At the last stage, this research will focus on storytelling and emotional marketing.
HOW BRANDS CONNECT EMOTIONALLY DURING A CRISIS
1. Intimate Brands Outperform Top Brands
According to a study conducted in 2020, the performance by intimate brands continued to lead the top brand's category in the Fortune 500 and the S&P indices. This trend witnessed in both revenue and profit has held on for the past 10 years. This is evidence that emotional branding works as it directly affects the company's bottom line. 
Before the COVID-19 pandemic, companies would focus on traditional methods, which implemented logical advertising that focused on the company's content. This pandemic revealed the deep desire for connection and community, which reveals that emotions are a critical aspect of branding and advertising.
By April 2020, a survey conducted by ANA revealed that 90% of marketing teams had adjusted their messaging and creative strategy, due to the COVID-19 pandemic. 
2. Brands Look Beyond Sales
Although the ultimate goal of any business is related to sales and money, brands are increasingly looking into the moments of engagements with their customers. Since the pandemic rocked the US, there has been a rise in social media usage and strive to have a real connection with customers in a personal way. 
There has been a shift to alternative ways that brands can connect with their customers. Apart from social media, they are also employing other interactive efforts by using features/tools such as "feedback loops, customer service moments, content sharing, video connections," among others.
3. A Shift in the Sales Funnel
 Prior to the COVID-19 pandemic, brands would generally have a specific flow of events that was successful in generating sales, which changed completely after. Brands are now shifting focus to invest in the brand-customer relationship.
This shift is critical as the pandemic has significantly affected the financial stability of various families across the US. As such, brands have been forced to look for other ways to interact with consumers as the sales conversation does not appeal to consumers in such a season, reducing a company's social capital.
Since this pandemic began, the needs of the average US consumer has shifted dramatically. According to a McKinsey survey, 64% of American consumers have felt depressed or anxious. The primary reason given by 39% of the respondents is financial instability, which will result in their inability to pay bills.
4. A Rise in the Use of Emotional Marketing
Experts expect that emotional branding will continue to increase over the course of the pandemic, and even after. This trend has been propagated by the need for frontline workers during this global crisis. The sacrifice that doctors, nurses, and store employees make to ensure that everyone is taken care of has revealed what Americans truly value and consider important.
These factors have resulted in a shift in the communication strategy of brands that have noticed. A significant shift has been noted in their services as they now offer support to essential workers. In this COVID-19 pandemic, brands are promoting critical measures such as social distancing.
5. Genuine Empathy
6. Developing an Emotional Marketing Strategy
According to the same McKinsey report mentioned above, the chart below was prepared to show how brands can connect with consumers during a crisis. By addressing different areas of life that could result in a crisis, this report provides a guideline for brands in implementing their efforts.
These seven strategies presented in this article were written to address how brands can conduct emotional marketing strategies during the COVID-19 crisis.
7. Messaging Around COVID-19: Fatigue
According to a survey conducted by Real Talk, more than 60% of respondents found information on the pandemic from brands was helpful. However, about 55% said that brands are pandering, while 44% stated that the advertising efforts by various brands blurred together. Additionally, 70% of respondents stated that they cannot match the ad to a brand successfully.
CASE STUDIES WITHIN THE SPIRITS CATEGORY
1. Bex Alcohol
 Bex Winery is a wine and spirits brand.
Over the past few months, this company has conducted various campaigns to maintain a connection with its audience. Here is a description of some products that were used to connect with consumers. These efforts were designed to address consumer limitations such as, couples that had to cancel and/or postpone their big events due to the pandemic.

 Busch Beer hosts virtual events that target the Gen Z to give them a post-work experience. These events are titled "Trivia Happy Hour" and are hosted on Facebook Live. For young drinkers who miss the physical interaction of an after-work experience, these events are the closest alternative.
For couples that have had to cancel/postpone their wedding, Busch Beer offers them various solutions. Some efforts here include covering the cost of beer for the wedding day after posting on social media with the hashtags: "#BuschWeddingGift and #Sweepstakes #BuschWeddingGift and #Sweepstakes.
2. Miller High Life
 Miller High Life is a winery company.
This brand offered three "Wedding at Your Doorstep" prizes. This campaign targeted couples that had to either postpone or cancel their wedding because of COVID-19's social-distancing regulations. The winners here would receive "an officiant, a photographer, beer as well as $10,000 toward canceled weddings and honeymoon costs."
3. Guinness
 Guinness is an alcoholic beverage company. This brand put out one of the top 10 successful adverts during its release.
This YouTube video is a link to the advert. This video was able to garner strong positive emotions from its audience. In this advert, this brand pledges $500,000 to communities that have been hard hit by the pandemic. This advert generated the best response within that specific month: 82,918.
This brand also participated in the "Covid Arms" by creating ingenious concepts such as the world's largest virtual pub. This endeavor raised £32,000 for the National Emergencies Trust.
Guinness is one of the first two brands that addressed the crisis in a campaign.
CASE STUDIES OUTSIDE THE SPIRITS CATEGORY
 Ford is an automotive company.
In May 2020, Ford launched a social media campaign that addressed the importance of manufacturing within the US. As the crisis worsened, this brand shifted gears and, began to manufacture medical supplies.
This YouTube video is the advert addressing how the company has taken steps necessary to support the fight against the pandemic in the US. By addressing the crisis and joining in the fight, this brand was able to appeal to its consumers emotionally, demonstrating a sense of solidarity. According to a survey conducted, this advert did very well among customers for its strong visuals and narrative.
This is one of the first two brands that addressed the crisis in a campaign.
Microsoft
 Microsoft is a technology and telecommunication company.
This brand is not new in the efforts of leveraging emotions to build a bond with its customers. According to this study, Microsoft kept climbing the ranks and is now in the 19th position and fourth in its industry.
Over the past years, this brand has increasingly taken a softer approach by focusing on the human angle. During the COVID-19 pandemic, this brand has successfully expressed empathy by changing its communication. The company's focus now includes "preserving privacy, accelerating remote learning, and providing supporting messaging, among others."
EMOTIONAL MARKETING AND STORYTELLING
Emotional Marketing Taps into Human Emotion
Although many marketers would assume that there are only four human emotions, experts say that there are nearly 30 that have been identified. These primarily stem from the four: fear, sadness, anger, and happiness.
Research has proven that campaigns that instill the four primary emotions leads to the following actions: happiness leads to more shares, sadness results in more clicks, fear/surprise inspires loyalty, and anger makes content go viral. 
Emotional Marketing Framework
 The chart below represents the framework of emotional marketing. This is based on a study that analyzes the importance of emotional branding. Although the results of the study focus on the fashion industry, these hold through other industries as well.
The first stage here is to identify the top trends in this industry. According to the example here, these include "desires for positive experiences, expressing authentic self, achieving warm glow from helping others, and co-creating design or ideas with the brand."
 Emotional strategies should now be built around these trends. Examples here include "sensory branding, storytelling, cause branding, and empowerment." This article continues to provide successful examples of branding strategies that address these trends. The end result of this process is consumer loyalty to a specific brand, which is a critical achievement in industries that are highly competitive.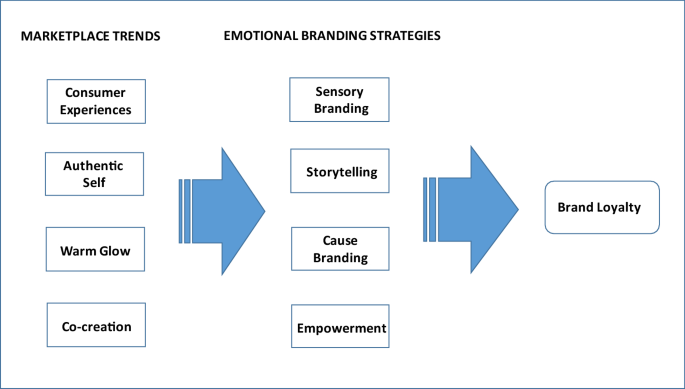 Instagram: Go-To Platform for Storytelling
Video: Go-To Medium for Storytelling
Storytelling is most effective when presented in a video format. This medium raises the bar in terms of impact. To support this point, statistics reveal that when comparing Facebook video and photo posts, statistics reveal that videos generate 135% more organic reach. As such, video is the best way that one can increase brand visibility.
Oxytocin
A properly told story that is presented well results in the release of a chemical within the human brain that invokes trust in the storyteller. This neurochemical is called oxytocin. This is why brands need to work on their storytelling strategy to ensure that they nail it! This is critical in ensuring that the relationship between brand and consumer is established.
Building positive emotions is critical for every brand as people purchase based on emotion. Statistics show that emotions play a more important role in purchasing decisions in comparison to the content/message of advertisements.