Regional Segmentation
Segmentation by Bicycle Type
Road bikes account for approximately 20.7% of the global market and this segment is expected to grow at a CAGR of 1.7% over the next seven years.
Mountain Bikes represent 14.9% of the global market.
The E-Bikes segment is valued at approximately $11.9 billion in 2020 or 21% of the total market.
(Please note that calculated estimations from the raw data were completed using the Omni Calculator)
APPAREL SEGMENTATION
As indicated in early findings, there are conflicting data points surrounding the total size of the global cycling apparel market. Initial research sourced from Statista and 360 Research estimated the market to be between three and four billion, however an additional (paywalled) report from Grandview Research has been located which provides what is likely a more accurate representation of the market. Grandview estimates the current global market to be valued at $5.74 billion. (Note: this estimate will be used to perform calculations for data analysis below).
Regional Segmentation
In 2019, Europe represented 29.1% ($1.2 billion) of the global cycling apparel market.
In 2017, the US share of the market was valued at $1.17 billion. Assuming that sales grew at a CAGR of 7.6%, this would place the 2019 value of the US market at $1.46 billion or 25.4% of the global market.
The APAC region is expected to grow over the next seven years by a CAGR of 5.0%.
Distribution Segmentation
 39.9% of sales were completed in either hypermarket and/or supermarket stores during 2019.
The e-commerce distribution channel is expected to "expand at the fastest with a CAGR of 5.8% from 2020 to 2027."
Product Segmentation
"The cycle wear apparel segment (including products such as leggings, shorts, gloves, beanies, tights jackets, and jerseys) accounted for the largest revenue share in 2019 with a share of 68.8% in 2019."
The cycle wear accessories segment (including headgear or helmets) is "expected to expand at the fastest CAGR of 4.7% from 2020 to 2027."
(Please note that calculated estimations from the raw data were completed using the Omni Calculator)
GLOBAL TRENDS
Several trends are being seen in the global cycling market. Three are highlighted below.
1. Luxury Cycles
Luxury brands have jumped into the cycling market and are "designing bikes with opulent features, including high-tech elements."
2. Technology
Deloitte has predicted that, globally, commuter cycling could double by 2023 because of technologies being developed and implemented in the marketplace.
3. Home Training
The market has seen an uptick in home training over the past several years, but the COVID-19 pandemic has likely impacted this even more so. Pre-pandemic, estimates suggested the "bike trainer market will be worth $140 million globally" by 2025.
Peloton announced in September 2020, that "fiscal fourth-quarter sales surged 172%, as its high-tech stationary bike and treadmill became two of the hottest commodities for people looking to work out at home during the coronavirus pandemic."
Featured at the 2020 CES Show, Bicycling.com states of a new home trainer, "RealDesignTech's UR2A-Va Ultiracer gives us a glimpse of where virtual cycling could be headed. This device, touting both hardware (rollers) and software (a virtual cycling platform) attempts to tackle one of the biggest problems with riding inside: Your bike needs to be fixed in place."
According to TheNextWeb, "smart (home) trainers are designed to integrate with online gaming-cum-training platforms, like Zwift, where riders from all over the world compete and train together in a virtual world."
DISRUPTORS
The cycling market's technological advances allow for disruptor brands to emerge. Three are discussed below.
1. Priority Bicycles
IAB ranked Priority Bicycles at #17 in their lifestyle category of disruptors for 2020.
Previously named one of "Inc.'s Best in Class Design award in the personal transport category, Priority Bicycles was founded in July 2014 by Dave Weiner, a former software consulting firm CEO. Weiner launched the New York-based company via a Kickstarter campaign that raised more than $550,000 on just a $30,000 target."
The company focuses on "creating a low-maintenance bike by using puncture-resistant tires that almost never go flat and a chainless belt that doesn't rust."
Priority's equipment is lightweight and quick to assemble making it ideal for city-dwellers who need to carry their bikes up several flights of stairs.
2. Canyon Bicycles
 Canyon Bicycles partnered with SEKO Logistics and became a leader in the D2C market for bicycles.
Canyon's bikes are sold exclusively online, and by reducing the supply chain has offered the consumer a "technologically-advanced performance bike for 20-30% less cost."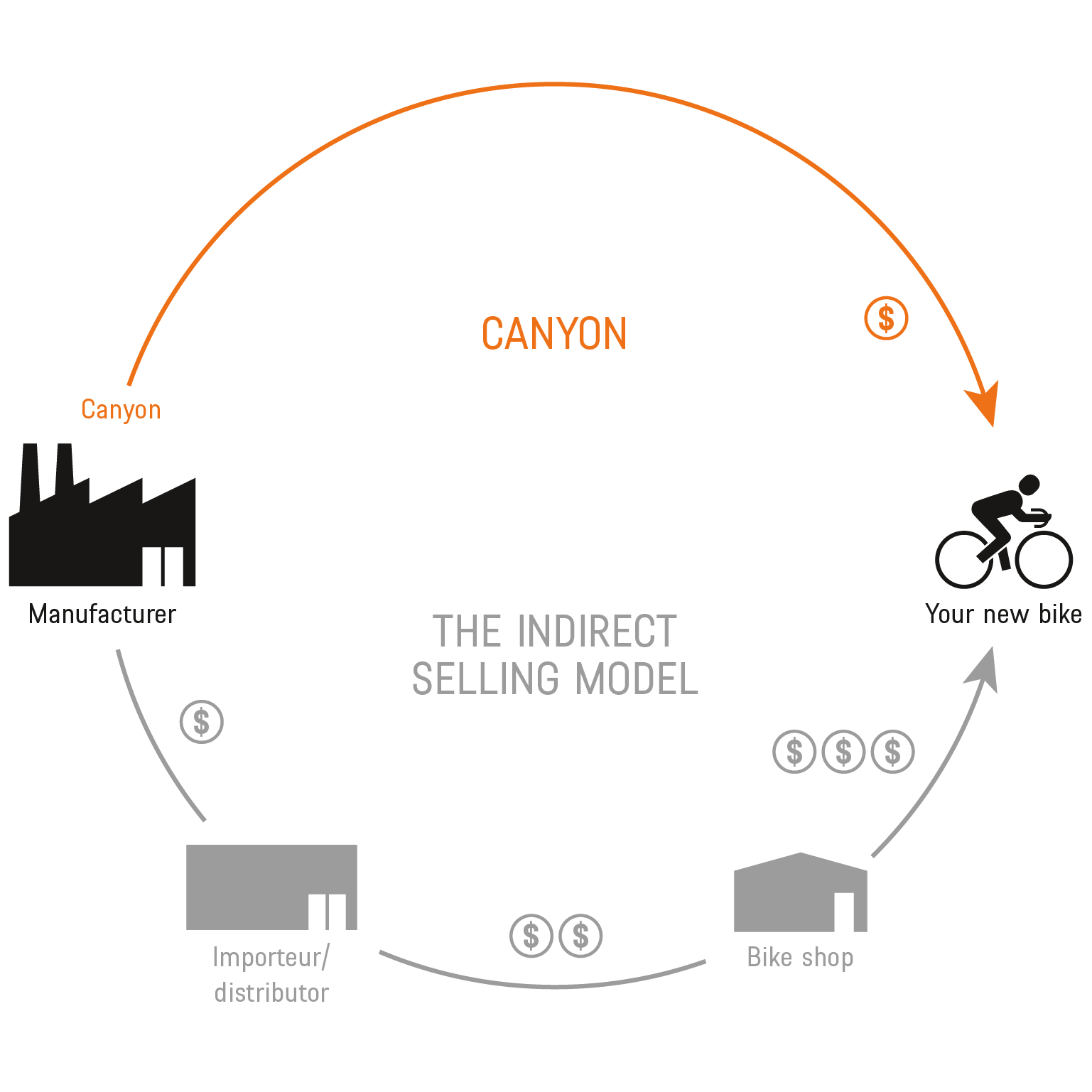 Migrating from Germany, the company centralized their operations in Chino, CA in order to "meet orders from their large customer base on the West Coast and to provide the capability to ship bikes across North America."
Highly sought after by US consumers for years, Canyon entered the N American market with the promise to deliver "nearly fully assembled bikes on their doorstep (direct signature required), with US orders taking no more than a day to process. Customers choose from three shipping options: ground, three- to seven-day, depending on destination."
3. AnneeLondon / KOVA
In the midst of Philadelphia's Indiegogo program in 2012, entrepreneur Rachel Benyola conceived the idea of a collapsible (and stylish) bike helmet.
Benyola then founded "AnneeLondon, named for the first woman to ride her bicycle around the world and describes the company as a lifestyle brand that infuses biking with a sense of style."
Statistics show that of the "1 billion riders, over 70% choose NOT to wear a helmet" and many attribute that choice to the helmets being "inconvenient, ugly and bulky."
The KOVA Helmet was designed as the "first and only safety helmet that's customizable and packable."
"The KOVA patent pending technology uniquely uses a specially designed hard shell plus PORON safety foam to create a dynamic multi-layered safety system to protect you while biking, skateboarding, scootering and rollerblading. KOVA works like a shock absorber (such as in a car) to absorb and slow down the impact. The proprietary blended hard shell and impact foam simultaneously absorb the force and dissipate it."
DEMOGRAPHICS
Developed from data sourced from a variety of outlets (like Velonews, Bicycle Business Journal, Bicycle Manufacturers Assoc of America, Bicycle Market Research Institute, Bicycle Retailer & Industry News, Cycle Press, National Bicycle Dealers Association, National Sporting Goods Association and the US Department of Commerce), the following general demographic profile of the US cycling enthusiast was built and is widely accepted by groups like Tehachapi Gran Fondo, PeopleforBikes, the Bike League and Grist. (Please note that these profiles were created utilizing feedback received after the early finding report and do vary from the originally proposed profiles.)
Cyclists in General
According to Statista, the share of cyclists/bike riders in the United States (by age) looks like this:
Some US cities are more likely to have cyclists than others. These are the top ten cities for bicycle commuters according to Move.org.
Bicycle Tourism
"Bicycling is one of the fastest growing types of outdoor recreation and tourism nationwide. It's estimated that 48 million people bicycle recreationally per year, contributing $96.7 billion per year to the economy." When looking at the cycling tourist (someone who implements biking into their leisure and vacation plans), the following demographics typically apply.
 82% of touring cyclists have a college education
 58% make over $75,000 per year
 8.1% are international tourists
When spending is reviewed, Statista estimates the following with regard to household expenditures in the US on bicycles between 2007-2019:
PSYCHOGRAPHICS
Cyclists
This graphic provides a look at the number of participants in road/paved surface bicycling in the United States from 2011 to 2019.
And this, looks at the number of participants in mountain/non-paved surface bicycling in the U.S. 2011-2019.
Cyclists in the United States typically have interests in other sports like running, triathlon, skiing, snowboarding, swimming, golf, and adventure sports.
According to the International Mountain Biking Association (IMBA) and Bicycling.com, cyclists are likely to be interested in computers, electronics, and technology; social networks and online communities; as well as e-commerce and shopping.
Approximately 85.5% of cyclists use the internet to get cycling information.
Touring Cyclists
"Bicycle travelers tend to be geotourists– interested in experiencing the distinctive characteristics of a place, including its culture, landscape, history, and the well-being of its residents (as defined by National Geographic). They tend to prefer to spend locally, make meaningful connections with locals, and explore off the beaten path."
2015 research from Julie Moularde of the Victoria University of Wellington reviewed the motivations and attitudes of mountain bike tourism participants. Though this research was based in New Zealand, it stands to reason that some of the broader findings would apply to US cyclists as well. Highlights include:
Among the motivations for taking part in mountain bike tours are: "novelty, fun and excitement, fitness, mastery, out-of-the-ordinary experiences, access to wilderness, flow, mental and physical escape."
Data surrounding regional tourism marketing from Ventura and Santa Barbara (California) provide the following psychographic insights of cycling tourists by generation. Again, it stands to reason that these insights would apply to cycling tourism as a whole.  
Source  As the research indicates that the typical cyclist (commuting, leisure, and tourist) is typically a millennial, additional insights for this generation have been provided for reference.