The FICA taxable wage base is expected to decline by 15 percent in 2020 and 2021. The FUTA tax rate payable by employers is projected to increase by 0.3 percent in 2022.
PROJECTED CHANGES TO THE FICA RATE
Changes to the FICA rate are greatly limited in scope. The FICA rate can only be adjusted by the Social Security Administration (SSA), the administering agency, or by an act of Congress through two effective mechanisms: the taxable wage base and the tax rate.
1. ADMINISTRATIVE ACTIONS
2. CONGRESSIONAL ACTIONS
PROJECTED CHANGES TO THE FUTA RATE
A number of private and public organizations have attempted to quantify future changes in the FUTA rate. Below are the expected changes in the rate as determined by reputable bodies.
1. Equifax
The credit rating agency expects the majority of employers to only notice an increase in their FUTA charges by 2022, especially in states that have outstanding federal unemployment insurance (UI) loan balances.
As of October 2020, a total of 22 states have drawn credit from the US Treasury to augment their unemployment funds. According to Equifax, those states will witness a gradual increase of 0.3% in their FUTA rates if the advances from the US Treasury remain outstanding by November 2021. The rates will also continue to increase by 0.3% if the loans remain unpaid in subsequent years.
2. Ernst & Young (EY)
The tax consulting firm expects FUTA rates to increase in the coming years. The firm predicts the increase will span several years, as observable in the last great recession of 2007. For example, the state of California saw its FUTA rates rise for four consecutive years and spent nine years repaying its federal UI loans before it witnessed any drop in its FUTA rates.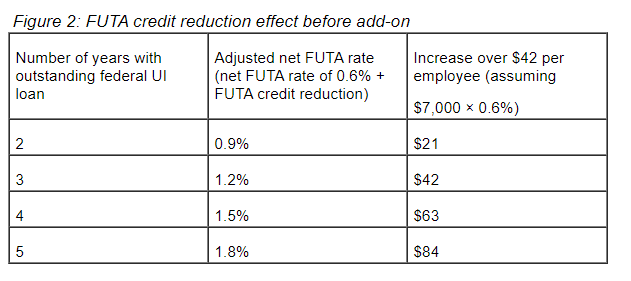 3. RSM
The firm, a tax consulting agency, expects employers to begin to notice increased FUTA rates by 2022. The rationale for the increase of the FUTA rate is similar to those presented by Equifax and EY. States that are unable to clear their backlog of federal loans by November 2021 will automatically trigger the FUTA credit reduction clause.
4. The Michigan Chamber of Commerce (& Others)
The Michigan Chamber, along with 50 other organizations, published a report in August 2020, where they shared their views on future projections for the FUTA rate.
According to the report, the group expects FUTA rates payable by employers to start rising by 2022 and keep increasing through 2023 and 2024. The rationale for the projected increase is also based on the commencement of the FUTA credit reduction clause embedded in the Federal Unemployment Tax Act.
The Chamber wrote to Congress to extend federal UI loans waiver through 2021 and delay the commencement of FUTA credit reduction for affected states by a year.