Broadway and Live-Filmed Content Subscription Services
Though there are no hard or specific numbers which point to how many people do (or would) subscribe to an OTT service primarily focused on showing filmed versions of live performances, several insights surrounding how many people take part in these types of services and channels will help to provide analysis and are presented below.
BroadwayHD Information and Statistics
The OTT streaming service, BroadwayHD, launched in 2015. Though exact subscriber data has not been released from the private company, several data points which point to the overall popularity of the live filmed theater content available on the platform have been discovered.
 BroadwayHD is a privately held company with approximately 133 employees. A revenue graph from ZoomInfo is shown below:
The service has seen a 188% increase subscriptions since 2017 and has subscribers in 20 countries.
Standard pricing for the streaming service is $8.99 a month or $99.99 a year.
Of note, the "U.S. market of over-the-top media services grew roughly 11% in 2018, with 170.1 million people expected to have an OTT subscription that year compared with 153 million the year before, according to eMarketer."
According to SimilarWeb, the streaming service's website was visited 197,000 times in August 2020.
The BroadwayHD YouTube channel has approximately 5,100 subscribers. Of note, however, the channel has videos that garner views in far greater numbers. The channel's own promotional video has been viewed 433,000 times and their Kinky Boots promo was viewed 759,000 times.
Additional Filmed Live-Theater Data and Insights
"In December 2015, Ken Davenport (a producer and author of Broadway Investing 101) live-streamed a performance of "Daddy Long Legs" as a method of getting "more eyeballs" on the show. Davenport and his team invested no money in marketing the event, but over 150,000 people in 135 countries watched the live stream of the show, which, according to Davenport, equaled 2.7 years of sold-out performances at the 130-seat theater at which the show played."
Pre-pandemic, OTT revenues from live-filmed theater were expected to be on the rise. Given the current shuttering of the theaters of Broadway, it could be assumed that an even larger growth will be seen at least for the period between March 2020 and January 2021.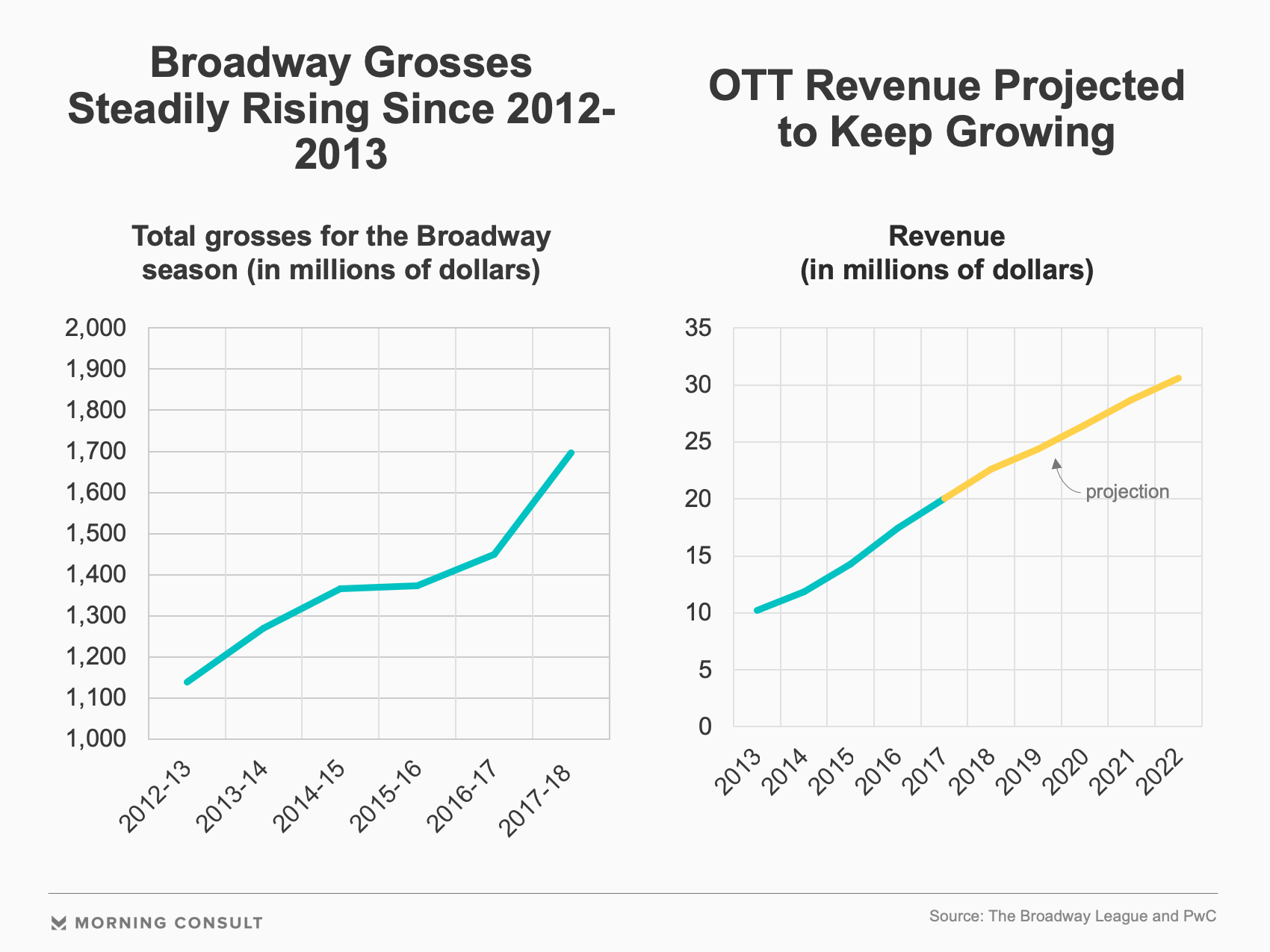 Additional Pros and Cons Surrounding Potential Subscriptions
PROS
It can be safely assumed that further delays in reopening theatres in New York City due to the pandemic would bode well for any subscription service offering access to filmed versions of live performances.
Data suggests that DisneyPlus garnered approximately 3 million new subscribers between the announcement and streaming premiere of Hamilton.
Millennials are fans and supporters of the arts. Approximately 70% state that they like to attend more art-focused events and according to TodayTix, a free mobile app that offers up the best prices on last minute theater tickets, "the average user clocks in 12 years younger than the (traditionally thought of Broadway fan) at age 32, squarely in the realm of the millennial generation." Based on their social media habits, its likely that they would be a potential target for this service.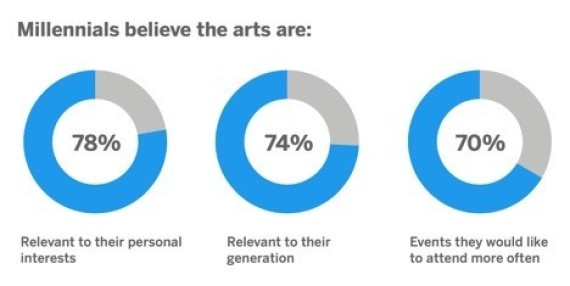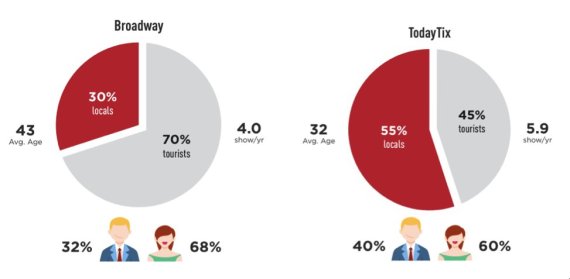 CONS
Broadway Streaming Demographics
Review of data in the previously presented brief in this project does not allow for a specific profile of a subscriber to an OTT service primarily focused on providing filmed versions of live theatre and other Broadway-themed content to be created. As such, the findings below will illuminate demographics surrounding the typical Broadway theatre attendee and the typical attendee to a touring version of a Broadway show – both of which are likely to be the broad target audience for this type of service.
Audiences Demographics on the Great White Way
According to The Broadway League's Demographics of the Broadway Audience report, the following demographics apply to audiences who saw shows in New York City during the 2018-2019 season.
The 2018-209 season saw a total of 14.8 million admissions.
46% of those attendees were from the US but outside of New York City.
68% of the audiences were female.
The average age of the Broadway theatergoer was 42.3 years old. This average has hovered between 40 and 45 years old for the past two decades.
Of theatergoers age 25 or older, 81% had completed college and 41% had earned a graduate degree.
The average annual household income of the Broadway theatergoer was $261,000.
Playgoers tended to be more frequent theatergoers than musical attendees. The typical straight-play attendee saw seven shows in the past year; the musical attendee, four.
Respondents reported having paid an average of $145.60 per ticket.
59% of respondents said they purchased their tickets online.
Google was the most common initial source theatergoers named when they were asked where they looked for information about Broadway shows. Ticketmaster and Broadway.com followed.
Of interesting note, the vast majority of current theatergoers had some connection to theatergoing as a child.
Audience Demographics for Touring Shows
The same report from The Broadway League provides the following statistics on demographic data for audiences who saw touring versions of Broadway productions.
During the 2017–2018 season, 17 million people attended Broadway tours across the United States and Canada.
72% of attendees were female.
The average age of the Touring Broadway theatergoer was 53.7 years.
The vast majority of Touring Broadway theatergoers were Caucasian.
Of those age 25 or older, 81% of the audience held a college degree and 38% held a graduate degree.
55% of national theatergoers reported an annual household income of more than $100,000, compared to only 25% of Americans overall.
Women continued to be more likely than men to make the decision to purchase theatre tickets
More than one-half of the audience said that they were somehow involved or interested in theatre as a child.
Additional Interesting Demographic Data
As discovered in the previous report, millennials are likely growing target market for all things theatre. A recent Eventbrite study investigating millennials and the arts, found that "1 in 5 spent upwards of $500 on performing and visual art events over the past year, and 49% of all millennials citing theater as a recent excursion."

Broadway insiders intimate that the millennial demographic is key. "Bob Cohen, the outgoing executive vice president of stage productions at Fox, says he believes the industry ignores streaming at its peril. 'If you're not understanding how millennials consume entertainment, you're not going to make money selling it,' said Cohen, who also was behind the "All About Eve" movie theater viewings, which he says have been profitable. 'And that's a mistake for Broadway. Look at the music business. It was behind, and it got slaughtered.'"
Key Takeaways
It is very likely based on the demographic data collected, that a subscriber to an OTT streaming service centered around the theater, is more often not;
Female
Between 25-45
Someone with a better than average household income
Active online and on social media
Someone who participated in the arts in some way as a child