Automation as a Service – Overview
Setting up Automation as a Service (AaaS) requires structuring inputs, training, and governance. The steps require a proper assessment before implementation. Benefits involved in creating AaaS include scalability and availability.
Set-Up Requirements for AaaS
 
Benefits of AaaS
With Robotic Process Automation, banks are allowed more freedom to focus on innovative ways to improve their business. Furthermore, RPA provides proper management of high volume tasks during peak hours.
Time and cost are crucial factors for operation in financial institutions, and the RPA is said to save about 25% to 50% of that. Additionally, the operational efficiency of banks is also positively affected. Banks such as "HDFC and ICICI are using RPA to bring down process execution time by around 60%. RPA is disrupting the way banks are operating, and the adoption will increase with the CAGR of 65%."
With faster implementation and availability, robots work round the clock to complete tasks.
 
Drawbacks of AaaS
Research Strategy
To provide insights into Automation as a Service (AaaS), we scoured through relevant industry databases, reports, publications, and news sites. We were hoping to provide insights on the requirements for setting up AaaS and the benefits vs. drawbacks of AaaS. This search method was successful because we were able to provide the information needed. During our search, the research team discovered that the most common form of AaaS for the banking industry is the Robotics Process Automation, and our search was directed in that line.
CASE STUDIES SHOWCASING BENEFITS OF AUTOMATION AS A SERVICE
Case studies showcasing Automation as a Service involves speeding training, slashing errors, and improving customer service. In the banking industry, the AaaS operational areas include ACH, wires, and large volumes of data.
1. Speeding Training and Slashing Errors
2. Management of Newly Acquired Branches
3. How Robots Help Serve and Protect the Bank
 
4. Great Growth in Banking Sector
5. AaaS Infrastructure
 IoT devices will play a great role in AaaS because of the massive flow of data. The more data is available, the greater the extent of automation, providing greater value for both the customer and the company. This also ensures that managing AaaS is easier and more practical.
Although the previous research focused on RPA (Robotic Process Automation), this research has revealed that AaaS is sometimes combined with RPA to improve the management of business processes.
As automation is widely implemented, a constantly increasing number of companies are implementing it. However, many are still wondering how to do so successfully. A critical component of here is focusing on the client. A customer-centric platform will be of higher value to the company and the process. Companies should also educate/train their employees as would be required. According to a survey, only 44% are planning to do so.
6. Accelerated Service Delivery
Implementing AaaS means that services can be delivered much faster to clients/customers. It eliminates the burden of manual processing and requests. Although automation has already begun across industries and in big and small companies, AaaS comes in as a package. One has the option of scaling up and will only need to pay for what they use. This consumption-oriented model presents options such as monthly payments and level of complexity, based on the company processes and requirements.
AaaS plays a critical in enhancing "innovation, increasing agility, and reducing operational complexity." As ML and AI are increasingly implemented, AaaS plays a great role in optimizing these technologies in order to enhance growth. Just as in automation, AaaS optimizes the company's performance, it enhances relationships with customers, and it reduces risk by enhancing accuracy.
The following chart/table provides an overview of the analysis before implementing AaaS.
Automation as a Service: Case Studies
Research into Automation-as-a-Service (AaaS) reveals that it is currently being combined with Robotic Process Automation (RPA) and Business Process Automation (BPA) redefining how company processes are managed, solved, and delivered. This is why the previous report focused on these aspects as a proxy. To provide a more comprehensive approach, this research has identified key players in AaaS and identified their customers that are in the banking sector. The following report provides an overview of a case study and additional insights that would be beneficial to this research.
Case Study: Kofax and TD Bank
 Kofax and TD Bank came together to create a mobile mortgage loan on-boarding process.
According to Mark Hakime, the Senior Enterprise Architect at TD bank, Kofax has offered them a unique solution that has reduced their time to market. By reading through electronic streams from vendors and partners and taking it through Kofax, the company has been able to establish a centralized service. It also provides an opportunity to correct and deliver to business processes. This means that the processes can be refined over time.
By moving to a decentralized approach, the system has now become a remote capture effort whereby the mobile mortgage sales force will go around to people's homes and scan in the documents. This enhances customer engagement/connection by offering convenience.
AaaS: What It Is and How It Is Set Up
Over the years, companies have been automating some of their processes. However, this is different from Automation-as-a-Service software and solutions. AaaS is a plug-and-play model whereby companies such as Blue Prism Ltd can offer these solutions. As the requirements would vary, it is critical that the customer clearly defines the process that needs automation.
In the case of Blue Prism Ltd, the company has a partner ecosystem that provides solutions that would be the right fit for different sectors. The partners that serve the banking sector include Virtusa Corporation, WonderBotz, and Advansys ESC.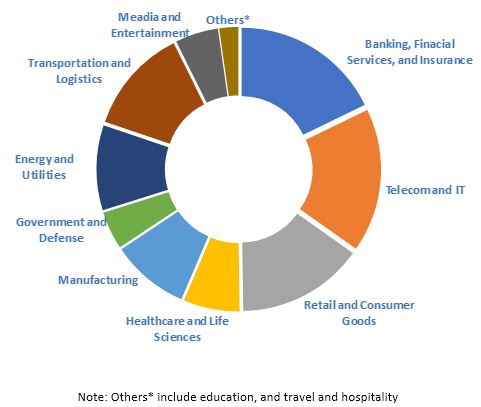 According to the same report referenced above, AaaS is key in controlling and monitoring interfaces so that there is a seamless flow of information. The banking, financial services, and insurance sector has several processes that need to work in harmony. These solutions have the capacity to fix bottlenecks, ensure seamless execution, and ensure a smooth workflow. It also ensures accuracy and efficiency and also support regulatory and compliance reporting.
If one would require an AaaS solution, companies/organizations can get in touch with any of the players in this industry: "Automation Anywhere, Inc. (US), Blue Prism Group plc (UK), International Business Machines Corporation (US), Microsoft Corporation (US), UiPath (US), HCL Technologies Limited (India), Hewlett Packard Enterprise Development LP (US), Kofax Inc. (US), NICE Ltd. (Israel), and Pegasystems Inc.(US)."
Research Strategy
After thorough research through industry reports, publications, company blogs, and media sites, our research team was able to provide this report. Our analysis was conducted across the websites/blogs/news releases of some key players, their customers in the banking sectors, and reports on the overall AaaS industry. The findings in this research are the highlights from some of these sources. We have also provided a brief summary as to why the previous research focused on RPAs instead of AaaS. It is evident that companies that offer AaaS solutions also provide RPA solutions. As a result, an analysis of the customers would only build case studies that would have RPA implementation. For this reason, we have provided one case study that we feel fits the criteria best.