Consumers of automotive parts are likely to be married, Millennial men. They are heavy internet users, who watch automotive videos on YouTube, and turn to Instagram for visual stimulation. They follow new car trends and are more likely than their older counterparts to consider themselves car enthusiasts. These consumers perform extensive research online before making a purchase and look for detailed information, particularly on vehicle fitment. They respond well to video content, trust online reviews, and are looking for cheap options. The B2B segment is becoming more optimistic as the pandemic's impact diminishes, despite current supply disruptions. The e-commerce market share is increasing due to the crisis, and Amazon is a significant threat to auto part retailers. Meanwhile, repair shops and dealers are purchasing value-oriented auto parts to respond to consumer demand and supply disruptions.
Consumer Profiles
B2C buyers of auto parts tend to be DIY consumers, especially for auto retailers, as DIFM consumers typically rely on shops to provide the parts. Most studies, articles, and research conducted on the B2C segment refer to DIY consumers; therefore, the profiles were mostly based on them.
Demographic Profile
 
Psychographic Profile
The psychographic profile was created using information from different consumer groups that compose the B2C auto parts segment. Since sources covering the topic tend only provide small pieces of data or are limited to one aspect of the profile, we gathered multiple sources covering these groups to achieve a robust report. The consumers used were DIY auto parts consumers, car enthusiasts, and millennial men. Nonetheless, to prevent any interpretation errors, the consumer used for each insight was fully noted.
Habits
Buyers of auto parts are likely to be heavy internet users. They like to watch movies and TV shows online, and to listen to podcasts.
These buyers are likely to be on social media to network with other professionals, find out about movies, TV shows, and events, support their favorite brands, and meet new people. YouTube is their favorite social media platform, followed by Instagram and Facebook.
Attitudes
Click-through rates of auto enthusiasts are almost six times the Google average, and social video engagement is 60% higher than average. "The real key is targeting them when they're consuming content that they're passionate about. You do better when you talk to an enthusiast when they're in the middle of enthusiast content rather than in a Google ad in the wild."
Moreover, these consumers become references for others consumers, and people are 3x more likely to come to them for advice before making a purchase.
Values
Hobbies
Consumers of auto parts are likely to be car enthusiasts, and as such, they enjoy automotive shows. Some of their favorites are Twin Turbos, Vegas Rat Rods, and Street Outlaws.
They like to watch TV on mobile devices, including free TV programs, streaming services, and live sports. Among their favorite sports to watch on TV are NASCAR Xfinity Race, WWE Smackdown, and Inside the NBA, as reported by IMR.
Auto part buyers are likely to enjoy fishing, hunting, football, basketball, camping, outdoor cooking, and soccer. They are interested in Monster Trucks, NHL, WWE, and NASCAR.
Consumer Profile
Prior to the COVID-19 pandemic, auto part consumers were starting to embrace DIFM repairs. However, the current situation and economic uncertainty surrounding it led to more Americans adopting a DIY mentality, driven by time availability and online resources, such as tutorials that help identify parts and videos explaining the installation process.
It is still unclear whether consumers will maintain this mentality once things return to normal; some predict that the DIY trend will fade away. For now, DIY consumers are the driving force behind sales of auto parts, particularly for auto parts retailers.
The pandemic also slowed car-buying intentions, putting consumers in a "wait and see" mode, which is expected to further drive the auto parts market. For reference, Millennials planning to buy new cars are looking for larger cars built locally rather than imported. The same behavior was observed during the 2008 Recession.
Research and Buying Process
Influences
DIY auto parts consumers tend to trust online reviews and other DIYers opinions. They also consult multiple sources, including retailers and manufacturers' content, before making a decision. For instance, consumers of specialty parts and accessories usually search for information online, although word-of-mouth is still relevant:
Pain Points & Drivers
DIFM Consumers
DIFM consumers of automotive aftermarket parts have a slightly demographic different profile, and is the only segment in which older consumers take the lead.
They are likely to be in the 60+ group (28.8%), closely followed by those in the 30-39 age bracket (22.8%). These consumers are also more likely to be college graduates, with household incomes over $100,000 (25.8%). Single females surpass single males in this segment (24% versus 16.3%); however, married consumers are the most prevalent (59.7%).
Traditionally, DIFM sales come from professionals and the service repair industry. However, with the vast amount of online information available and e-commerce platforms, some consumers may choose to buy their own parts and then pay for labor. They are also known as "install-it-for-me" consumers, and independent repair shops report they only account for 4.6% of customers. 
Auto Parts Industry — B2B Segment
The auto parts market was undoubtedly affected by the COVID-19 pandemic. However, it has shown greater resilience than other verticals. Even in the B2B segment, which is still not showing the same strength as the B2C segment, particularly for large auto part retailers, the sector shows signs of recovery, and players are optimistic. The pandemic is further driving some other disruptions and business activities, such as repair shops purchasing private label parts, e-commerce, and brick-and-click business models.
Insight #1: The Impact of COVID-19
The automotive aftermarket was considered an essential industry in the United States, and, therefore, exempt from shelter-in-place orders, albeit implementation was somewhat inconsistent between states and municipalities.
COVID-19 affected the aftermarket industry across the entire chain, from manufacturers and shops to distributors and retailers. The initial impact was intense, but the market started to rebound, and retailers and B2B consumers are more optimistic now.
Insight #2: B2B E-commerce
Not all B2C players are equipped to enter the market, as a platform for B2B clients is more complicated than the typical B2C platforms, as retailers need to identify customers by associating them to a location or business entity, "accommodate the roles and privileges in the customer's workflow, and display personalized content with customer-specific pricing, product mix, and relevant terms."
The customer-specific B2B pricing requires live pricing and inventory calls to the ERP. These consumers tend to have specific rules, custom catalogs, tier pricing, payment on account, and cart to quote requirements.
For example, Macpek, a heavy-duty truck parts distributor, updated its B2B website to include a real-time inventory checker, quantity pricing with 63,000 matrix combinations, centralized product information, smart search features, and mobile-friendly features. As a result, it saw an 86% increase in online revenues.
Marketplaces
Insight #3: The Brick-and-Click Model
Insight #4: Economic Uncertainty and Value-Oriented Auto Parts
In the past, economic uncertainty led to a spike in demand for value-oriented auto parts in the B2C and B2B segments. The same is happening today. According to Vertical IQ, even dealer repair operations, "which historically have only sold OEM parts, are providing more aftermarket options."
Independent automotive repair shops are increasingly purchasing private label/store brand parts. In 2018, only 33.4% stated they had increased their purchases of these parts. In 2020, 65.8% reported the same. Today, 45.4% of repair shops part purchases are private label/store brand parts.
Furthermore, 68% of repair shops expect to increase their purchase of private label parts over the next year, mainly driven by consumers' desire to save money due to the pandemic.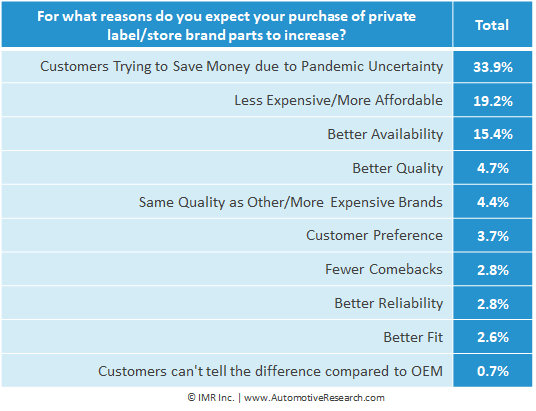 Better availability is also an important driver, as repair shops are struggling to get parts on time and find suppliers. When asked about the top challenges they expect to face for the remainder of 2020 at the end of May, getting parts on time was the third most mentioned challenge.